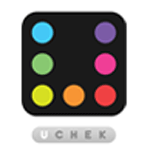 Mumbai-based medical devices startup Biosense Technologies Pvt Ltd has launched its second product, uChek app, which enables physicians and patients to analyse urine samples using their smartphones, measuring parameters such as glucose, ketones and leukocytes. According to the app store, as of now, the app is available only for iPhone users in India and the US. "We will launch the app on Android and Windows by August. We will expand it in Europe with iOS whereas we will focus on Android for India and other developing countries," Myshkin Ingawale, co-founder and CEO of Biosense, told to Techcircle.in. He said that the app is mainly for consumers, but the firm is also targeting small clinics which cannot afford to have big machines for urine analysis.
How it works
uChek can be used in two modes—manual and auto. In the manual mode (priced at $0.99), the uChek app helps in the process of visual inspection, providing time-keeping and manual data logging functionality. In auto mode, the user has to order for a uChek kit as well, which is priced at Rs 999 in India and $19.99 in US. In this mode, the app turns smartphone's camera into dipstick reader which detects the colour change and the medical condition automatically. "The manual mode is more of a guide for visual inspection while the auto mode checks colour change from time to time and tells the user about the disease," said Ingawale.
Now, uChek can read about 25 medical conditions, including kidney, liver and bladder problems, urinary tract infections, pre-eclampsia and complications of diabetes. Recently, the company secured $500,000 in funding from GSF India, a startup accelerator programme launched by former Reliance Entertainment president and GSF Superangels founder Rajesh Sawhney, and Insitor Fund, a social venture capital fund focussed on early-stage social enterprises in Asia. The funds will be mainly used to launch a series of products for the healthcare sector.
Biosense belonged to the first batch of startups incubated by GSF India and Sawhney-promoted Global Super Angels Forum which put in $150K  in the company in March 2012. As part of that investment, Samir Sood, a member of the Global Super Angels, also joined the board of the company. Biosense had earlier secured seed funding from the Echoing Green Foundation and Chennai-based Villgro, an organisation that invests in early-stage social startups.
Biosense is an incubatee of Centre of Innovation, Incubation and Entrepreneurship (CIIE) at IIM-Ahmedabad. It was founded by the four-member team of Ingawale, Abhishek Sen, Yogesh Patil (COO) and Aman Midha.
Ingawale was earlier working as a consultant at McKinsey & Company and holds a PhD in Management Information Systems from IIM-Calcutta. Sen had earlier worked with Anaemedia Partners and holds an M.Tech in Bioengineering from IIT-Bombay. Patil holds an MBBS degree in Internal Medicine from TN Hospital (Mumbai) and his role at Biosense includes co-ordination of clinical research and patent strategy. An IIT-Delhi alumnus, Midha was previously working as an industrial designer at Tata Technologies.
Biosense's first product was a portable gadget called ToucHb that measures the haemoglobin count without the prick of a needle.
We will update this post as soon as we get more information.
---