After nearly a two-year delay, Mumbai-based Just Dial Ltd, which runs the India-specific local business listings site Justdial.com, plans to open its initial public offering on May 20 to raise between Rs 822 crore and Rs 950 crore.
According to an advertisement today, Just Dial is looking to sell nearly 17.5 million shares at a price band of Rs 470-Rs 543. The issue will solely comprise secondary sale of shares. Last year, the firm also raised Rs 327 crore ($57 million) from existing investors Sequoia Capital and SAP Ventures in one of the largest pre-IPO round of venture funding.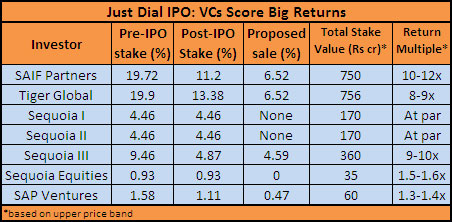 Just Dial's venture capital investors including SAIF Partners, Tiger Global, Sequoia Capital and SAP Ventures will sell part of their holdings in this issue. Promoter VSS Mani and COO V Krishnan will also sell some shares. Around 14.7 million shares will be sold by the investors while the rest 2.8 million will be sold by the management and the promoter group.
The IPO will see a dilution of 25.02 per cent stake, which will value the company between Rs 3,290 crore and Rs 3,800 crore, depending on the final price band.
Just Dial had first filed for IPO in August 2011 but had to defer it due to weak market conditions. The firm then raised a round of funding from Sequoia Capital and refiled for the public issue in 2012.
Citigroup Global Markets India and Morgan Stanley India are the book running lead managers to the issue.
Biggest consumer internet IPO by an Indian firm
With an expected IPO size of Rs 822-950 crore (given the valuation and the stake sale), Just Dial's IPO could be the largest public offering by an Indian internet company. In 2010, travel portal MakeMyTrip listed on the NASDAQ, raising Rs 326 crore ($70 million). Info Edge (India) Ltd, which owns websites like Naukri.com, also raised Rs 174 crore through its IPO in 2006.
With a valuation Rs 3,800 crore at the upper band, Just Dial will be second only to Info Edge, which currently commands a valuation of Rs 3,963.41 crore and is listed in India. It will be larger than NASDAQ-listed MakeMyTrip, which commands a market cap of Rs 2,650 crore ($486 million).
Just Dial's listing may also set a precedent for internet IPOs in India as several players like classifieds firm Matrimony.com Pvt Ltd (formerly Consim Info) and e-tailer HomeShop18 are also looking at public listing.
Multi-bagger for SAIF, Tiger Global
The issue will be a multi-bagger for SAIF Partners, with expected returns of 10x-12x on its seven-year-old investment. Tiger Global is also expected to make 8x-9x returns on its investment. Interestingly, both SAIF and Tiger Global hold stake in MakeMyTrip, another internet investment that ensured great returns for its investors.
MakeMyTrip, India's largest travel portal, was listed on NASDAQ in 2010. While SAIF has been cutting its stake in the firm and is expected to make 15x-20x, Tiger Global has increased its holding in MMT since the IPO.
For Sequoia Capital, the returns get a little complicated as it has invested in Just Dial through four funds and in three tranches, between 2009 and 2012.
Sequoia Capital first invested Rs 38.35 crore in Just Dial in a secondary deal in 2009, buying out the stake from an early investor. This fund (Sequoia III), which currently holds 9.52 per cent stake, is making a partial exit in the issue and is expected to make 10x in the upcoming IPO.
In June 2011, Sequoia Capital Global Equities, along with SAP Ventures, invested around Rs 45 crore at a valuation of Rs 2,200 crore. Then in July 2012, Sequoia I and Sequoia II invested Rs 305 crore while SAP Ventures invested another Rs 22 crore, doubling their bets. This round was done at a valuation of nearly Rs 3,400 crore, which is 12.2 times the total income of Just Dial in FY12 and 64x PAT of the company in the same financial year.
While Sequoia Capital Global Equities and SAP Ventures are selling their stake in the issue for a profit, returns for Sequoia I and Sequoia II will depend on the issue performance. Sequoia I and Sequoia II, which are Sequoia Capital's India growth funds, invested at Rs 488.66 per share while the issue price band is Rs 470-543.
Revenues, expansion
Founded by VSS Mani in the 90s, Just Dial is a local search firm that covers both B2B and B2C space and lists small and medium businesses across the country. It provides services across multiple platforms including the internet, phone, mobile and print.
Just Dial follows a B2B model where local businesses pay for listings, to be featured among the company's search results (which it calls campaigns) on a priority basis. However, consumers/end-users can access these listings for free.
Just Dial increased its listings from 7.7 million in June 2012, to 9.1 million by March 31, 2013. The number of campaigns increased from approximately 40,500 as of March 31, 2009, to nearly 195,100 as of December 31, 2012.
Just Dial's consolidated total income increased from Rs 71.6 crore in FY08 to Rs 277 crore in FY12, representing a CAGR of 40.2 per cent. Its profits after tax increased from Rs 1.71 crore in FY08 to Rs 52.3 crore in FY12.
In the nine-month period ended in December 31, 2012, Just Dial's unconsolidated total revenue was Rs 271.2 crore, with the restated profits after tax from continuing operations amounting to Rs 47 crore.
Its expansion plans include a marketplace to buy and sell goods starting with cars besides enabling transactions between consumers and businesses listed on Just Dial.
(Edited by Sanghamitra Mandal)
---