5 Indian companies make it to 6th accelerator batch of 500 Startups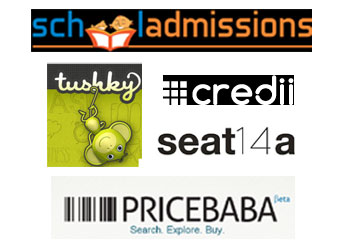 Five Indian startups have made it to the final list of 28 incubatees, picked by Dave McClure's accelerator and seed investment fund 500 Startups for its 6th accelerator batch. More than two-thirds of the incubatees are global firms as the startups have been selected from around 14 countries besides the US. The programme has kicked off on April 15 and the batch graduates in July, followed by Demo Days, to take place in Mountain View, San Francisco, and New York City.
This is the second time when companies have been chosen through an open application process. Earlier, referrals were used to select the incubatees. The last batch also included four Indian startups, chosen through the open applications process (more on that here).
Here is a quick look at the five Indian startups that made the final cut:

Credii: Founded by Ayan Barua and Vamshi Mokshagundam, Bangalore-based Credii automates the time-consuming and data-intensive process of shortlisting and selection that a business has to go through while sourcing software and IT services. Its tools record the context behind a user's requirement through a question flow and come up with the most relevant options as a list, 2D graph or a comparison table, thus creating a customised shortlist. Currently, Credii seems to be in closed beta, but sign-up for early access is open on its portal.
Seat 14A: A rather unusual name, Seat14A is a private label men's fashion and lifestyle e-store. However, it works differently and sends out weekly mailers featuring 'complete looks' for men. Those complete ensembles can be purchased from Seat14A, but solo items can't be bought (might be a dampener for price-conscious Indians). The startup also claims to be shipping its products all over the world. This interesting twist to an e-shop is going live in June. The company has been started by the foursome – Nav Chatterji, Tarun Arora, Adi Sahay and Jas Banwait.
School Admissions: An integrated online platform that enables parents to manage the entire admissions process through various tools – from a single-point control panel to networking with other parents. At present, it is a community platform, providing information on nursery and senior school admission in Delhi-NCR. It also offers details regarding tutors, fee payment, peer group networking, stationery, uniform, learning tools and after-school activities/courses. The Delhi-based startup was set up by Rajan Arora and Puja Arora in 2007. The venture was earlier incubated by the Indian Angel Network.

Tushky: Set up by IIT Bombay alumnus Talvinder Singh, Mumbai-based Tushky is an online marketplace for listing, exploring and booking tours, activities and more (it can be anything from activities and workshops to experimental trips or unique weekend getaways). It went live in August 2011 and secured angel funding of Rs 35 lakh from a private investor. The startup was also a part of GSF Accelerator's inaugural batch. Tushky essentially connects travellers with local, lesser-known or unknown guides, tour operators and experience providers to discover, book and offer local experiences. So one can book sky-diving experience (in India or abroad) or may go for a salsa dance class in one's city.
PriceBaba: It is a location-based price search engine for mobile phones. The Mumbai-based startup was founded by Ankur P Agarwal and Tirthesh Ganatra (lead developer), and the site went live in May 2012. This online platform enables shoppers to search for mobile phone prices offered by nearby brick-and-mortar stores. The startup claims that each of these offline stores has gone through a two-step evaluation process, which also includes a personal visit by a verification team. PriceBaba also received an undisclosed amount in seed investment from a group of investors earlier this year.
(Edited by Sanghamitra Mandal)

---