LinkedIn India, the Indian arm of the world's largest professional networking site, has crossed the 20 million members mark. This accounts for 9 per cent of LinkedIn's global member base of more than 225 million.
The Indian arm started operations in November 2009 and has grown 500 per cent since, in terms of member count. Also, India has the second largest member base after the US, which has 74 million members. However, India tops the Asia-Pacific (APAC) region, followed by Australia (4 million), Indonesia (2 million), Singapore, Malaysia and the Philippines (1 million). In total, the APAC region has around 40 million members.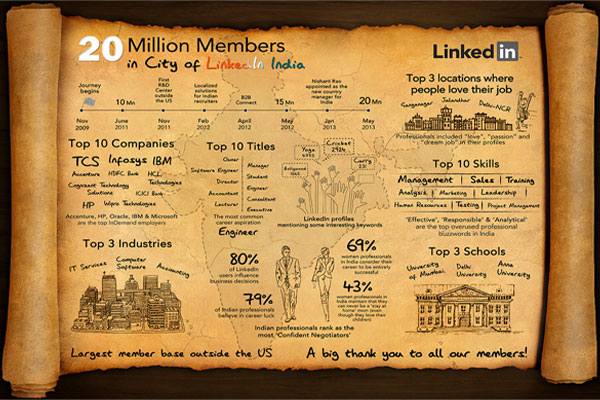 "While we have come of age in India, we still have a long runway to grow with our members and clients. This is helping to create economic opportunities for all," said Nishant Rao, LinkedIn India's country manager.
"Our clients play an incredibly important role in helping enrich the lives of our members by sponsoring/sharing relevant content that makes our members more productive, and by providing business & career opportunities that help make them more successful," he added.
Rao was appointed as the new country manager in January this year.
In the same month, LinkedIn crossed  the 200 million members mark globally, with 37 per cent (or 74 million) of the total member count coming from the US, followed by India with 18 million members.
India highlights The largest industries (in terms of member count) for LinkedIn India happen to be information technology & services, computer software and accounting. And the top three skills include management, sales and training. IT companies like TCS, Infosys and IBM are the most-in-demand employers on LinkedIn India.
Interestingly, the most mentioned keywords in users profiles are Bollywood, yoga, cricket and curry. Top three locations where people love their jobs are Ganganagar (Rajasthan), Jalandhar and Delhi-NCR.
In its first quarter results ended March 31, LinkedIn also claimed its member base grew to 218 million globally due to optimisation initiatives and new sign-ups increased to more than two per second.
(Edited by Sanghamitra Mandal)
---