As promised we have come up with a full-blown comparison of two main players in the online bus ticketing space—redBus and Paytm. redBus was founded in 2005 and its mobile app came in around February this year. On the other hand, Paytm, an online recharge portal launched by On97 Communications, has now enhanced its services to include utility bills, deals and bus ticketing.
We could not find more standalone bus ticketing apps in Google Play and the one that we found (Mybustickets.in) failed to function citing low Internet connectivity even on Wifi.
Here is a comparison of the two bus ticketing apps.
redBus
The oldest player and the market leader in the space had our hopes high and didn't really disappoint us either. The homepage is simple and clutter-free; upon filling the requirements it takes ones to a neatly done list of buses available on the chosen route. We noticed that it didn't show up any buses for some popular routes such as Delhi-Dehradun or Gurgaon-Agra or Gurgaon-Jaipur.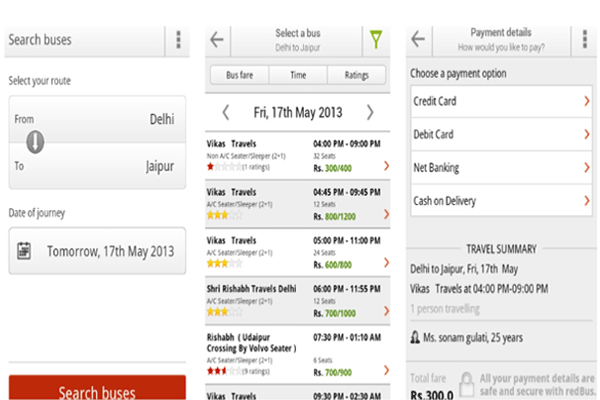 It seems its network is stronger in southern regions. User interface works fine without any lag. Commuters have an option to call the customer care at any step of booking the ticket. The listed buses can be sorted on the basis of timing, rating and fare. Seats and boarding points too can be selected without any flitch. Further a filter icon on the top right of the screen of bus listings allows users to sort options on the basis of AC, non-AC, sleeper, etc and select drop-off points as well. However, one may not even notice the icon initially; it could have been displayed more prominently. In terms of payment options, all popular modes—debit/credit card, net banking and cash on delivery—are available.
Overall the booking process is glitch-free and user interface is easy to use. It is a simple-to-use app and does its job well. Final rating: 4/5 (we feel some routes need more listings and the sorting process could be bit easier)
Paytm
The new entrant has forayed into online bus ticketing in December last year and launched its mobile app just days ago. But we were pretty surprised with the app's interface, to say the least—the user interface is much smoother and slicker. In this app commuters can sort the buses on filters such as timing, fare and other criteria such as AC, non-AC, sleeper, etc.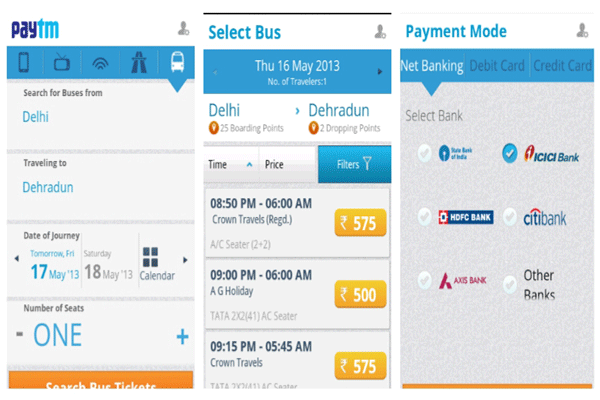 Users can also choose drop-off points along with boarding points. The filters are much more visible and prominent in this app. If you don't have a Paytm account, you can just sync it with your Facebook account; this is quite a handy feature. All popular payment modes—except cash on delivery—are there. Also, whatever mode you choose from—credit/debit card and net banking—you can see all bank options to select from. It also has features such as recharge, bill payments, etc. All in all it's a slick app. It is not much different in terms of usability from its counterpart but the whole experience is better and quicker.
Final rating: 5/5 (with this one, we couldn't deduct any points)
Online bus ticketing is gaining traction steadily. It is much more popular in routes in southern and south-western states, due to better roads and more organised bus routes. While redBus is a leader in the sector, Paytm is slowly catching up.
Comparing the number of downloads for both the apps would be a little unfair as redBus has been in the market for quite some time. Also for Paytm's app, the number of downloads doesn't necessarily indicate the popularity of bus ticketing feature since it has many more features such as recharge of prepaid mobile, DTH, bill payments, etc. In terms of user-friendliness Paytm emerged the winner for this week's App Tracker. We suggest you give both the apps a spin and let us know which one you found better.
We will be back with our next edition of App Tracker next week.
---