Decision-making turns social, gets Big Data boost at DecideQuick; will you try it?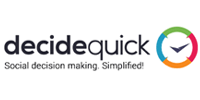 Thiruvananthapuram-based Big Data startup DecideQuick Services Pvt Ltd, which provides an online platform DecideQuick to help people make informed decisions using social data, claims to have analysed more than 4.3 million data points in the past four months in response to 19,000-plus queries posted on the site.
"DecideQuick is the first ever platform to use social data analytics and co-owned private social data to help people make informed decisions about their choices. It analyses the opinions of friends, influencers and people at random in real time, and reduces the hassle of searching, reading and assimilating all relevant information available online," said founder and CEO Shameer Thaha.
So whether it's eating out, holidaying abroad, buying a new car or choosing the right school for kids, one need not gather and process social media feedback to zero in on the best options – DecideQuick does that for its users. The company says it has an active user base of 2,000 at present.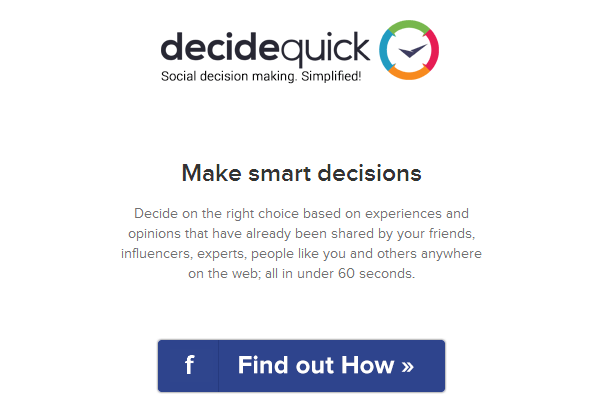 Incubated at Kochi-based Startup Village, DecideQuick was set up in November 2011 by Shameer Thaha, Karthik Sundarajoo and Jayasooryan K. Thaha (CEO) holds an MBA from SP Jain School of Global Management in Dubai, and a B.Tech in Computer Science from Kerala University. Sundarajoo, the chief marketing officer, has a bachelor's degree in Computer Science & Digital Systems Security from the University of Wollongong, Australia. Their partner, Jayasooryan K, holds an MBA from IIT Madras and a B.Tech in Electronics & Communication from the University of Kerala. Prior to starting DecideQuick, Thaha and Sundarajoo also co-founded CGWerks Pte Ltd, a Singapore-based creative visualisation and marketing company.
As of now, the platform is free for users. "Currently, revenues come from affiliate purchase, advertising and also through APIs (application programming interfaces). The APIs or widgets are used by customers like e-commerce firms or review sites that require product recommendations and social data from DecideQuick. These are charged on transaction basis," Thaha told Techcircle.in.
In future, the company will generate revenues through data insight and data intelligence solutions, delivered through a SaaS model. "Currently we are a B2C platform solving problems for consumers, but we are also building a B2B product that will help brands with business insights," said Thaha.
DecideQuick will also target those who are using the web as a research and decision-making platform. "Social media and digital marketing are our key strategies, but that require various campaigns to reach out to people. As of now, the majority of users have come in through word of mouth and referral invites," added Thaha.
A seven-strong team, DecideQuick secured seed funding of $100,000 from NextBig Idea Incubators early last year. "We are currently looking to raise funds to the tune of $1.5 million, which will be used for product enhancements, marketing and staffing," he said.
Although there are similar players in the market such as Hunch.com, Decide.com and LetSimonDecide.com, Thaha claims that DecideQuick is the only platform that solves the problem by analysing social media feeds with the help of Big Data analytics tools.
The company sees a big opportunity in this space and eyes the $650 million global market. "With more than 86 per cent of online users searching the web before making a purchase decision, the opportunity is large. Today's data explosion, further propelled by more connected devices, makes the market more relevant for DecideQuick," said Thaha.
Will you opt for social analytics before the next big buy? It can be more structured and accurate that the random user reviews we tend to read up. But then again, some people love to do it themselves and curation of any sort will put them off. Share your views with us in the comment space below.
(Edited by Sanghamitra Mandal)
Comment(s)