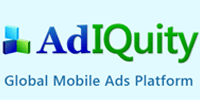 Bangalore-based mobile advertising company AdIQuity Technologies Pvt Ltd, which owns and operates the mobile advertising platform AdIQuity, has come up with a new feature called Geo Sense, which enables mobile advertisers to select and target location-specific audiences for greater effectiveness.
With the help of Geo Sense, advertisers can geo-fence (a virtual perimeter for a real-world geographic area) cities or states. They can also customise region selection with radial targeting (it is done by specifying a distance from a point to point on the map). Such location-specific targeting will help advertisers engage better with their specific audience.
"While mobile advertising has increased manifold across the globe over the past few years, this has also created demand for more specific targeting parameters," said Rajiv Narayan, head of sales at AdIQuity.
Earlier this year, the company tied up with Art Of Click, a Singapore-based mobile ad network, to accelerate growth in the Asia-Pacific (APAC) region.
AdIQuity, which initially started with the now-defunct local search engine Guruji.com back in 2006, enables mobile app developers and publishers to earn revenues by leveraging their mobile inventory. It also helps ad agencies, ad networks, real time bidding (RTB) DSPs and other media buyers acquire global mobile traffic.
According to the company, it has more than 70 mobile ad networks as partners and 12,000 active publishers on board. It further claims to serve around 18 billion monthly impressions from 200 countries. The company will also look to raise funds this year. It had already raised $7 million from Sequoia Capital in 2006, followed by $8 million from Sandstone Capital in 2007 (when Guruji.com was still functioning).
---