It started as online music streaming wherein users could just log on a website and listen to their favourite music albums, without the need to download or buy them. With the penetration of smartphones and the increasing market for app, all popular online music streaming companies gradually came out with their apps.
We bring a comparison of leading music streaming apps in India and review them on the basis of parameters including user interface and ease of navigation. Here is a look at Indian 'Spotifys':
Dhingana
Dhingana launched its music streaming app a year ago. This app supports all platforms, including iOS, Android and BlackBerry. It has a collection of over 1 million songs in 42 Indian languages. Dhingana app has tried to bring in all basic features to the home page to make search easy. Another feature we like is the inbuilt radio. However, the user interface is not so friendly and a new user will find it hard to get used to the app. The app has all the important tabs, including new releases, top songs and top play lists on the home page.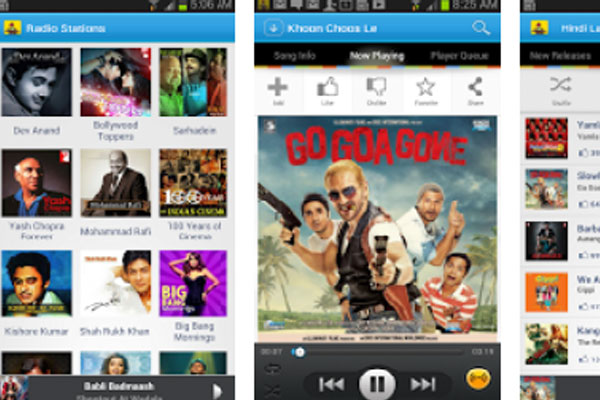 You can search for songs by album, playlist, actor, singer, year or movie name. A 'social' app, it has been integrated with the Facebook Timeline. It also enables users to log in to Dhingana with their Facebook accounts and adds songs to their Facebook Timelines while they are listening to music on Dhingana. Users will also find 'music posts' and 'play buttons' shared by friends in news feed. One can also play the music using the Facebook feed. The app also contains basic features for listening to music such as 'shuffle all' and 'play all', etc. It saw over 1 million downloads over the last one month.
Rating: 3.5/5 (the Facebook integration and the free access to a large collection of songs in various languages are excellent features).
Saavn
Saavn (South Asian Audio Video Network), a US-based Indian digital music service, is another key player in the music streaming service. The layout and the user interface are very different and are easy to use. The home page features mainly two tabs: weekly top 15 and surprise me (for evergreen and most popular songs), apart from a tab to search for your favourite music. Then there are new releases, my play lists and featured play lists.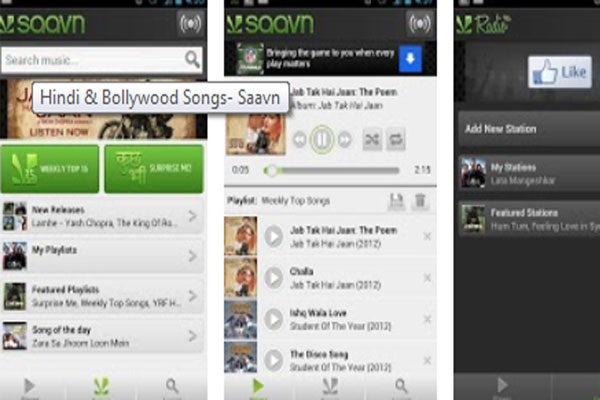 One drawback is that Saavn features songs from only nine Indian languages, in addition to English. However, this app, too, offers the radio feature. You can also save songs in playlists through your Facebook account. The app works fine even on a slow 2G network and enables users to search by film, actor, singer and music director. One of the key features of the app is that it has several pre-selected bouquets of playlists. Saavn offers a subscription-based premium service, Saavn Pro, for iPhone users. This allows users to take their music catalogue offline and is ad-free. To save music for offline listening (or caching), users will have to hit a cloud icon on the screen next to any song or playlist. Allowing users to take the playlist offline is a key differentiator for Saavn. This app also clocked over 1 million downloads in the last 30 days on Google Play.
Rating: 4/5 (when you turn on the app, it loads with ads and it crashes often. However, the user interface is good and it is easier to discover songs. It needs to include songs from more genres and languages).
Gaana
This app from the house of Times Internet came in earlier this year and by that time both Saavn and Dhingana had claimed to cross a million users each already. It came late but it did score extra points for various new features it brought. Gaana's Android and iOS apps score in terms of user interface and the search feature. The search feature is exceptionally broad-based, allowing you to feed almost anything as a search term—right from artist's name to movie name and words from lyrics. When you are playing songs, the album art for each number loads automatically.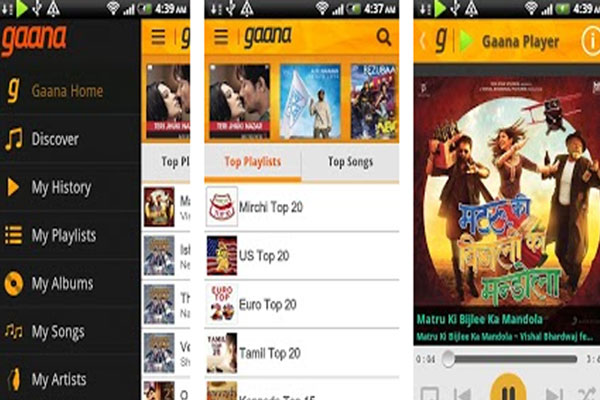 One can instantly 'favourite' it, add it to the playlist, share it with others or turn it into a radio station with the help of the Radio mode and other options listed on the screen. This app also enables users to view the music history of friends and contacts. One can also add the songs on others' playlists to one's own with just one click. The home page displays top playlists and top songs, and on the top is a carousel, which shows the albums. The audio quality is fine, even on 2G. If you already have a Gaana account on the web, your content automatically syncs when you log into mobile and vice versa. To enjoy features like creating playlists, syncing songs across the web and the mobile, or viewing what your friends are listening to, you have to sign in. The app also saves your music history, which you can access only if you are signed in. On the Android and iOS apps, songs are available in a number of languages, including Hindi, English, Tamil, Telugu, Kannada, Malayalam, Bengali and Punjabi. Music lovers are likely to enjoy this app.
Rating: 4.5/5 (it would have been great if we could use all the interesting features, or some of them, without signing in!)
Hungama
The latest entrant in the market from Hungama Digital comes in with a slew of new features. Users can purchase the songs via operator billing; there is a loyalty programme that earns users points for spending time on the app and the search is pretty interesting as music can be discovered on the basis of genre, mood, era, etc. However, the most interesting feature is the seamless integration of audio and video. For now, this is the only music streaming app that provides video streaming.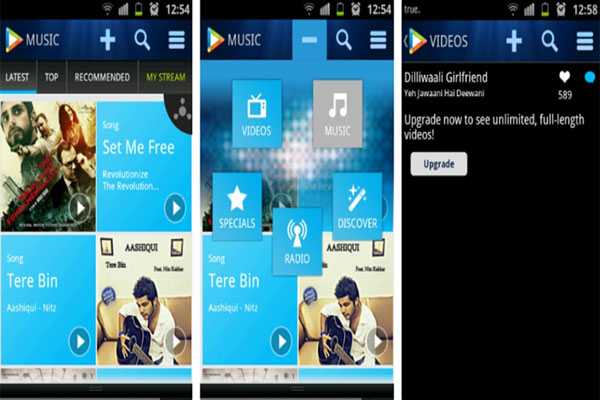 The service is not free, though. Users can sample a 30-second video for free and but need to upgrade and pay around Rs 50 per month (for Android) to have full access to videos plus an ad-free app. The user interface is a bit cluttered at the first look as it packs a lot of content at one go. But the good thing about this app is that it lets you enjoy almost all features without the need to sign in. The transition from audio to video is pretty interesting. The app also provides the lyrics (if available) which will be a hit with the Indian users who love to google the lyrics of the latest songs. Audio quality is good on 2G but videos won't work for obvious bandwidth reasons. It also scores by having an inbuilt reward point mechanism which users can accumulate by using the service and the points can be redeemed to buy songs. This app surely knows the meaning of 'all-in-one'. Not surprisingly, it also clocked over 1 million downloads on Google Play over the last 30 days. Rating: 5/5 (what more could you ask for?)
Raaga
Raaga's convenient user interface makes it one of the favourite music streaming apps for music lovers. It has almost all tabs on the home page itself to make searching easy; these include new releases, devotional music, most popular and top 10 countdown. A key feature is that users can play predefined playlists or play songs in the radio mode. Another advantage of the Raaga is that it will remind you of your favourite songs.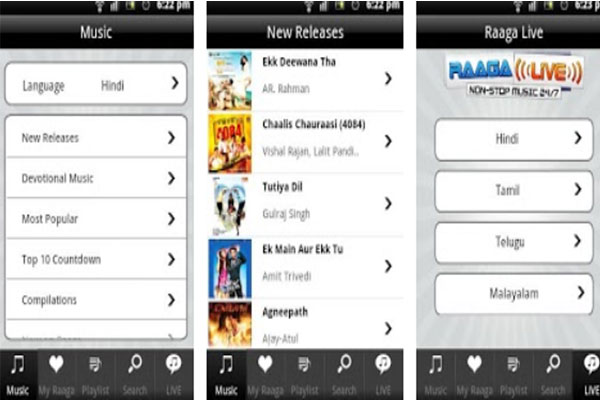 For example, if you play a favourite song very often, it keeps it on top in the playlist. One can create and share playlists with a community in this app. Raaga has the archive of Indian music in more than 18 languages and genres. It clocked 100,000 to 500,000 downloads the in last one month.
Rating: 3.5 (one of the biggest flaws is that you need to sign in to use the app; it also keeps telling you to check your credentials).
There are a slew of other apps too in the market. One interesting app is Radiowalla which is an online radio app. It provides various channels on different segments; there are a few free channels and some premium ones as well. It is different in its offering from music streaming apps but on its own it has an interesting value proposition. In today's App Tracker, Hungama.com's app came out as the winner since it has a lot of value-added features packed in. These Indian Spotifys are now gradually moving towards monetising these apps. Almost all of them have come up with premium, ad-free versions.
Which music app do you like the most? Do share your reviews with us. We will be back with the next App Tracker in a week.
---