How BigBasket is breaking out of the pack in grocery e-tailing and what's next on cards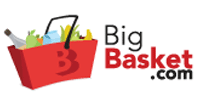 In a tough e-commerce market where consolidations happen every other day and companies shut shop due to lack of capital (Mumbai-based e-grocer Shopveg.in shut down as it failed to raise external funding), Bangalore-based e-grocery store BigBasket.com is slowly scaling up to become a multi-city player.
The firm, which started in December 2011 in Bangalore, has expanded to Mumbai and Hyderabad within one year. It is now planning to extend its presence to the top 10 cities by December 2014, said Vipul Parekh, co-founder & head of finance and marketing, at BigBasket.com.
The e-tailer does close to 1,200 orders a day in Bangalore and around 600-800 orders per day in Mumbai and Hyderabad combined. It is currently clocking a monthly GMV (gross merchandise value) of Rs 9 crore on an average, claimed Parekh.
"In Bangalore, we have seen a CAGR of 20-35 per cent month on month," he added.
BigBasket will foray into Delhi and Chennai in the next 6-8 months.
The firm was founded by a team of five – VS Sudhakar, Hari Menon, Vipul Parekh, VS Ramesh and Abhinay Choudhari. They had earlier launched Fabmart.com (backed by ChrysCapital), selling music, books, toys, jewellery and finally, groceries. But later on, the grocery business became pure play retail, was hived off and merged with Trinethra, raised funding from India Value Fund and was ultimately sold to the Aditya Birla Group (later came to be known as More retail chain). The online business finally became Indiaplaza.com, an online shopping mall, and the five founders still remain shareholders.
In September 2011, the five got together to launch the grocery e-tailing business BigBasket.com, roping in TutorVista's K. Ganesh and Meena Ganesh as angel investors. The firm has also raised $10 million from Ascent Capital in Series A in February 2012.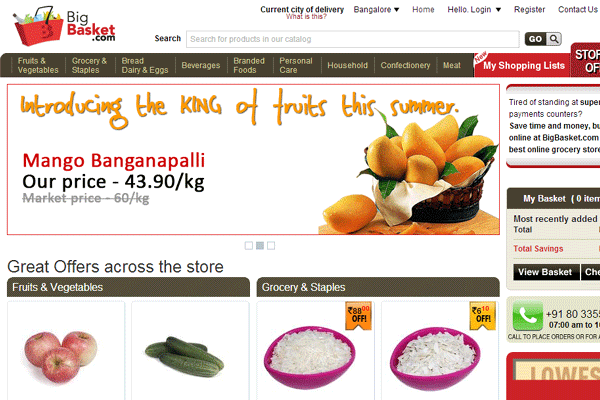 Shedding more light on the economics of grocery e-tailing, Parekh said it is the most difficult kind of e-commerce business. "A lot of logistics, supply chain and merchandising complexities are involved in this business. And there are significant entry barriers due to these requirements," he said.
Still, we find multiple players in this space in all major cities. How could he explain that?
"Yes, there are many players in every city, but everyone cannot scale it," said Parekh. "We have built this business for scale. We have a very large range of products – from frozen cuts to fresh fruits and vegetables. We service the entire city area where we are present today and we also ensure same-day delivery," he pointed out some of the differentiators.
Moreover, if the company is not able to deliver within the stipulated time, customers are entitled to 50 per cent cashback.
To make things more efficient, BigBasket has its own, end-to-end logistics. From procurement to warehousing to supply chain and finally delivery, everything is managed in-house by a fleet of 500-plus people. With these essentials in place, the company claims to have 50 per cent customer retention rate and a registered user base of over 1 lakh.
"The biggest challenge is that it's not a single item you are selling. There are 10,000 items and you can't possibly stock hundreds of all those products. That is the biggest challenge – getting the stock management right. How much of what will sell and how much to stock happen to be the key in this business. Else, the stuff will be wasted or even ruined, in case of perishables," explained Parekh.
According to him, investors are still wary of this niche segment and earlier, too, they were worried when BigBasket raised funds. "At that time, they put the money into the team, rather than the business. In fact, that was Ascent's first e-commerce investment. The scenario has not changed much even now as this business definitely faces scalability challenge," he said.
But what about the next round of funding that the company may require to implement its growth plans and achieve the all-too-crucial scale? Raising fresh funds is not on the cards right now, but BigBasket will start looking at it once it finalises its expansion plans.
Grocery e-tailing is undoubtedly a capital-intensive business (both in India and globally) and companies invest millions to build such a business from scratch. But they often run out of money without even reaching break-even. Will BigBasket's strategy to reach scale for growth and profitability spell success in the long run? Share your comments below.
(Edited by Sanghamitra Mandal)
Comment(s)