Mumbai-based startup Spatial Ideas Web Solutions Pvt Ltd is working to ensure that key technologies like geographic information systems (GIS), mobile applications and face recognition (biometrics) are converged to create effective and powerful e-governance solutions, as well as enterprise applications. Hence its flagship platform is called Mobile Enterprise GIS (MoEGIS). Spatial Ideas is also one of the startups that showcased its product at Techcircle Demo India event recently held in Bengaluru.
"When we started interacting with local governments, we realised there is a dire need for cost-effective solutions that actually work. The market opportunity was huge and that's why we thought of building an extensive platform to support various products and solutions to empower local governments," said Vishal Agarwal, CEO of MoEGIS.
The startup was founded by Nitin Agarwal (software director) and Vishal Agarwal (they are not related) in May 2012. Vishal has been involved in the geospatial industry for over 10 years and earlier worked with companies like Rolta, Cognizant Technologies and Esri. He holds a BE degree in Electronics and Telecommunications from Amravati University, Maharashtra, and a master's degree in Electrical Engineering from Penn State University, Pennsylvania. Nitin had earlier worked at Infoton Systems & Services and Zeon Solutions, and holds a BE in Mechanical Engineering from G.H. Raisoni College of Engineering, Nagpur.

Currently a team of five, the startup's key customers include Mira Bhayandar Municipal Corporation, Petrolview B.V., and Terracon Ecotech, among others. The company offers a host of solutions in the following areas:
Municipal solid waste management: Enables supervisors to execute and manage their work force, and plan out the waste removal process more efficiently (also allows participation from citizens).
Project management for public works department: Allows mapping of all projects undertaken by local governments and provides real-time photo updates, along with on-site remarks via geo-tagged images, real-time e-mail alerts and MMS updates. It can also be used by bigger corporations.
Health management and tracking solution: Keeping track of the disease spread (on a map) and digitising how free medicine is distributed and utilised. It can also enable family surveys, child and mother welfare schemes, etc., via tablets.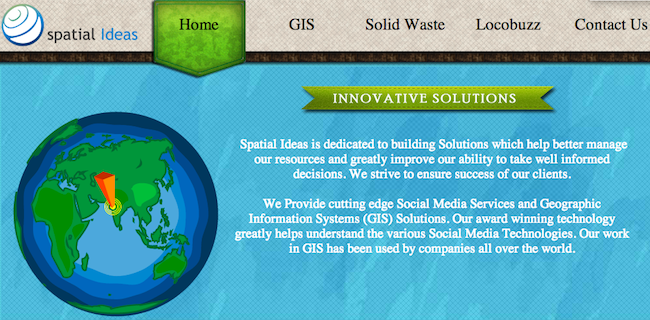 Bootstrapped till date, the startup is now looking to raise around half a million dollars in the next three months. The funds will be mainly used for product and business development, marketing and day-to-day operations. According to Vishal, the company generated over Rs 50 lakh in revenues in its first year of operations and it is now aiming to reach Rs 3 crore in the current fiscal. It will do so by selling its software solutions to various municipal corporations, as well as district headquarters.
However, the biggest challenge is the sales cycle as it can take anywhere between 1.5 months and 4 months to close a deal. Moreover, as the startup is working with a lot of government organisations, the sales process tends to get tedious due to time-consuming tender process and other regulations.
The startup's competitors include companies like Rolta India, HCL and Bluefrog Mobile Technologies. But according to Vishal, the company's solutions have a technology edge, as well as functionality advantage, over its competition. "We can offer far superior technology and solutions and a fraction of their cost," he concluded.
(Edited by Sanghamitra Mandal)
---