Has your account balance ever run out in the middle of an important phone call? Or has your set top box (STB) closed down right when you were about to find out the identity of the killer in your favourite thriller movie? Of course, it has. But you don't have to worry, since a number of companies today offer mobile apps for exactly that last minute recharge. However, since there are a lot of apps to choose from, it is important to find out which app among the ones being offered is the best and gets the job done faster than others.
For the same, in this week's App Tracker, we bring to you a showdown between recharge apps like Paytm, MobiKwik, FreeCharge and Easy Mobile Recharge. One of the top recharge sites Rechargeitnow doesn't seem to have an app yet which is surprising as the recharge on the go is something of a key pain reliever for mobile users. Read on to know which app wins and which one bites the dust.
FreeCharge (Android)
The app looked fine but after a few taps disappointment began to sink in—it is quite slow and lags at times; a user cannot see possible recharge amounts for the network while punching the recharge amount. However, the visual appeal and interface are not at all cluttered, with decent colour combinations and segmentation. A user need to sign up to do the transaction. A registered user can also keep balance in advance, so that he/she can recharge on the go without entering debit/credit card details. As of now, the app is available on Android only. Google Play says it crossed 10,000 downloads (in last 30 days). We are surprised though!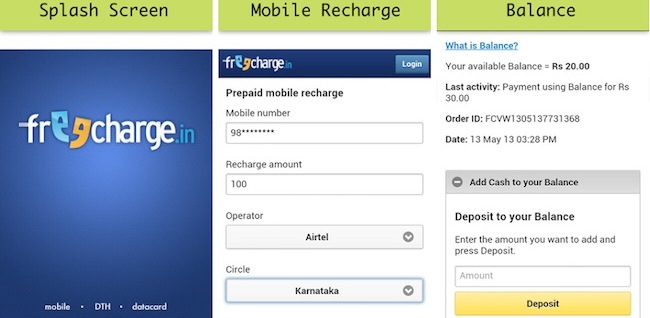 Rating: 2.5/5 (give us a faster app to prefer ordering via app over Internet)
Easy Mobile Recharge (Android)
The app is not famous as other prepaid recharge apps, but it did not disappoint us at all. It is a fast app with user friendly features. On the home page, a user can see recharge plans according to the type (night pack, SMS pack, etc.) available on the network. The app also has a feature called Easy Wallet to keep balance in advance for fast mobile recharge. The app works smoothly till the end. However, while punching details, every time when you press backspace to delete a character, it keeps on asking if you want to close the app; this may annoy you a bit. The visual appearance is plain, but can become appealing with good colour combinations. The app is available on Android, as of now. On Google Play it crossed 5,000 downloads (in last one month).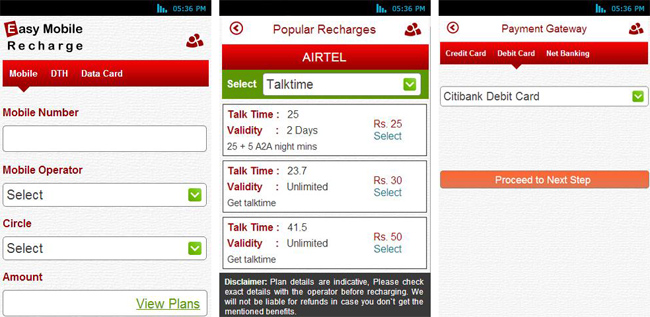 Rating: 3/5 (we feel the ping of 'are you sure you want to close the app' should not appear every time and colour combinations can be made better)
Paytm (iOS)
The app offers recharge capability for mobile (prepaid or post-paid bills), DTH, data cards and toll cards (currently only for the Delhi Gurgaon Expressway) as well as a recently started bus ticketing facility. We tried recharging our mobile and here is what we found.
Once you enter your mobile number, the app automatically figures out the mobile operator and shows you a number of recharge options (top up, 2G, 3G and special recharge). Users can also enter their own recharge amounts and once entered, they are taken to a sign-in/sign-up page.
Once signed in, users can choose from a list of free/paid coupons that are offered in categories such as shopping, travel, gifts and flowers and food. Payments can be done via net banking, credit card or debit cards. The payment process is seamless and once a recharge is completed, users receive an SMS and email confirmation of the same.
From the accounts page, users can also view all previous orders (both successful and failed) and can repeat them for a quick recharge. They can also add Paytm cash to their accounts to avoid providing banking details every time for future recharges. According to Google Play, the app already saw over a million downloads (last 30 days).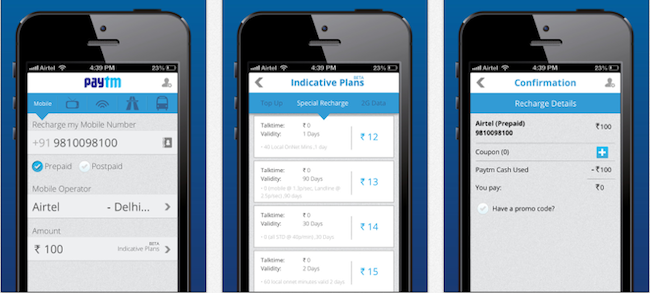 Rating: 4.5/5 (an awesome app that makes the recharge process much more simpler)
MobiKwik (iOS)
Among the apps, this one offers the most number of options to the user. They can recharge mobile (prepaid or postpaid bills), DTH, data cards, and can also pay their landline, electricity, and gas bills. In addition, users can make their life insurance policy payments with the app. One big drawback of the app is that unlike other apps that allow users to make payments each time and offer a 'wallet' option for only those who are interested in it, the MobiKwik app makes it mandatory for users to add money to the wallet.
Also, the app does not provide information on the available recharge offers, which means that users will have to know the exact amount before recharging. All transactions on the app are powered by the wallet, and while the money added in the wallet never expires, we don't think every user will be comfortable with just leaving the money in the wallet. For adding money to the wallet, users can choose from a number of payment options such as net banking, credit card and debit card. Once the money is added, users can recharge/pay bills in just one click. In the last 30 days, the app crossed over 1,00,000 downloads on the Google Play store.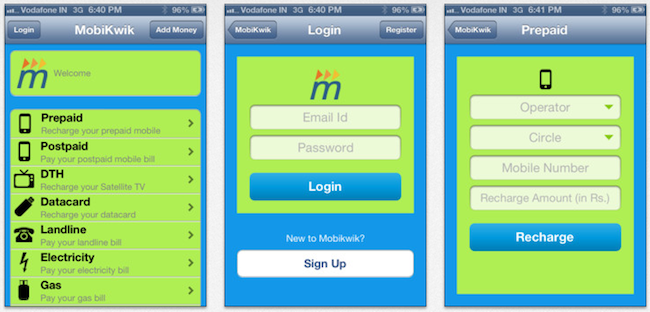 Rating: 3.5/5 (the company can definitely use a better colour combination instead of the current blue and green one)
Well it's a no brainer who the winner is among the recharge apps—its Paytm. Apart from its functionality and ease of use, the look and feel of the app is pleasant and the no-nonsense user interface makes recharging effortless. That's all for the comparison of the popular recharge apps in the country, but keep track of this space for your weekly dose of App Tracker. Till then, keep tracking.
---