Bizgain's SaaS digital dashboard seeks to help marketers calculate bang for their bucks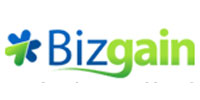 Hyderabad-based startup Nyoomedia Business Solutions Pvt Ltd is looking to solve marketers' pain points with its product Bizgain, a cloud-based SaaS platform which offers a digital marketing dashboard for advertisers.
One of the startups that showcased its product at Techcircle Demo India event in Bangalore, Bizgain crunches big data (Google-AdWords, Facebook Ads, Google Analytics and Display) and provides recommendations as infographic visualisations, which help advertisers improve their return on investment (ROI), according to Sudhir Mantena, founder and CEO of Bizgain.
According to him, Bizgain solves advertisers' two major pain points—manual daily analysis of key metrics by logging in to each platform separately, and lack of actionable insights to improve ROI.
"Bizgain helps generate more conversions or revenue from the same digital marketing spend and also helps make campaign optimisation decisions faster," Mantena said.
The company follows a subscription-based business model, starting with $150 per month. Bizgain's counts midsized advertisers as its clients and is looking to bag 200-300 customers by the end of 2013 with the target geography spread across India, the US, Canada, Australia and the UK.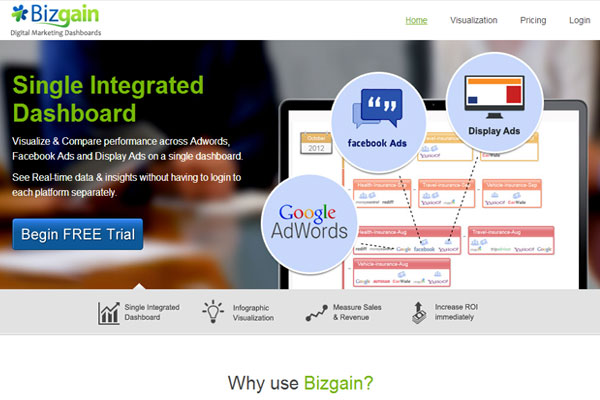 The company started out as a digital marketing agency in August 2010 by Mantena providing campaign management services to small and medium businesses across India and globally using Google Search, Facebook and Display media channels. While delivering services, Mantena realised that measuring ROI from across digital channels and solving advertisers' pain points are a bigger opportunity.
So a year ago, Bizgain launched a browser-based digital marketing dashboard with easy to understand infographic visualisations to help advertisers and their agencies make quick marketing decisions based on data.
Prior to Bizgain, Mantena founded NIDM.in, a digital marketing training institute based in Hyderabad. He is also founder of MetroMela.com, a local information portal. He started his career as engineer and has worked with firms like Bloomberg LP and Intel Inc. Mantena holds an MS in computer engineering from Syracuse University, the US and a BE in electrical and electronics engineering from Annamalai University, Tamil Nadu.
Bootstrapped to date, Bizgain is now looking to raise funding of around Rs 2 crore by September 2013. The current size of its team is five and it will look to bring more people on board in engineering, marketing and analytics domains after it gets the funding.
Mantena considers Google Analytics, KissMetrics and Mixpanel as Bizgain's key competitors. "Unlike Google Analytics, Bizgain aggregates raw data not only from AdWords and Analytics but also Facebook and Display networks. It also accurately attributes sales or revenue back to its marketing source to help advertisers optimise their future spends," Mantena said while talking about the factors that differentiate Bizgain from its competitors.
Bizgain seems to have huge market opportunity to tap. "Small, medium and large advertisers across the US, the UK, Canada, Australia and India—where digital marketing spends on AdWords, Facebook and Display are already high or are increasing rapidly—need tools that can help improve their ROI from the same spend Google AdWords ecosystem has over 2-3 million advertisers with majority of them based in the above-mentioned countries," Mantena said.
Comment(s)