App Tracker: Which SMS blocker gets the job done right?
Tired of pesky SMSes disturbing you all the time? Irritated that you have to clean your SMS inbox daily because offer messages are not leaving you alone? Well, we are not launching an app to tackle that, but are doing the next best thing. In this week's App Tracker, we bring to you a comparison of the popular SMS blocker apps. We will look at a number of parameters such as the app's effectiveness in tackling spam, the user interface (UI) and its ease of use.
Privacy Guard
This easy to use SMS-blocking app lets users choose the numbers to 'blacklist' from call logs, contact list or unknown numbers. After setting the filters, users also have an option to enable or disable the privacy guard which is a handy feature since it allows certain flexibility like switching the SMS blocker on and off. When a user selects a number, from any of the three options, the app asks whether he/she wants to block SMS or calls or both from that number.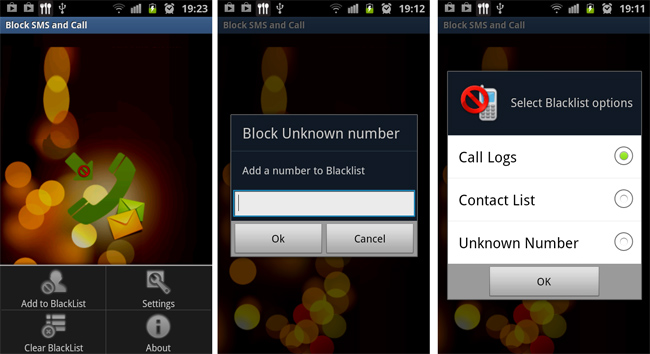 The user interface is pretty simple and clutter-free. With a clean home page and most functions on tabs below the page, the app is extremely easy to use. One can select as many numbers as he/she wants to the list and they are all displayed on the home page of the app itself. If you want to unblock the number, just tap on the number to review options such as unblocking the numbers, blocking call or SMS or both. There is also an option to clear a full list of blocked numbers at one go.
The app is developed by Chennai-based technology company SriSeshaa Technologies Pvt Ltd; it saw more than 100,000 downloads in the past month on Android.
Rating: 3/5
 (the app does what it says in a simple manner though it doesn't store logs)
SMSBlocker
A multi-functional SMS and call blocking app, SMSBlocker has a relatively larger offering. It lets users choose which numbers to block on the basis of three main filters—senders, content words and series. Senders can further be chosen from call logs, contact list, inbox or manual entry. One can also filter SMSes containing one or more keywords. The third filter series lets you block SMSes and calls from numbers with prefixes or suffixes like +1800 or *120; this helps block some numbers that bother with spam calls and messages. Coming to additional features, there is a logbook wherein one can see the blocked SMSes but that is a premium feature available only in the upgraded version of the app (that costs Rs 99 on the Google Play store). Other features are MM Blocker, wherein users can block MMS from one number in free version and up to five numbers in the premium version. There is call blocker which lets you block calls from up to 5 numbers. A very interesting feature is Block My Ex wherein user can block SMS up to three exes and it is not saved in any logbook as well since it says messages from your ex deserve to be in trash! There is an Auto response option which is a premium feature but there is a 15-day free trial. Auto response lets you send a customised SMS response to the blocked numbers. Logs can be copied to the notepad via the export feature. Lastly, there is a backup option too which lets you keep a backup of all data on SMSBlocker.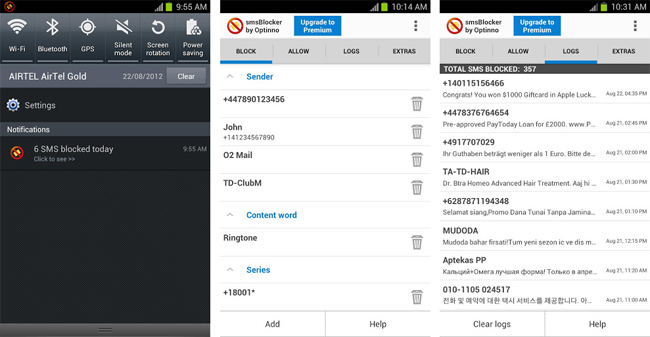 This app is packed with features. The user interface is clean but it is not very simple as a result of the multiple features the app has. One may find it a little difficult to understand in the first go but it definitely solves a lot of issues at one stretch. This app is developed by Pune-based startup Optinno Mobitech Pvt Ltd; it saw more than 5 lakh downloads in the past month in the Google Play store. Rating: 3.5/5 (the app is packed with a lot features and does its job well. However, the plethora of options may leave users a bit confused)
Call and SMS blocker
This app also lets users choose numbers to be blocked via call logs, contacts or manually. It stores all blocked calls and SMSes in a log. The app can be disabled or enabled, as required. The user interface is simple and uncluttered. However, it took a long time to load when we tried blocking contacts from the phone's contact list. It was working fine on other options of adding manually or from call logs. The user interface is simple but it can be made better. The font on the home page is small and the layout is confusing. This is developed by Noida-based Kartik Infotech; it saw more than 10,000 downloads on Google Play store.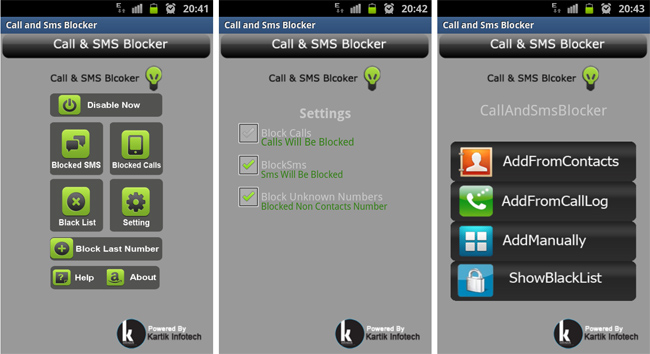 Rating: 2/5 (the app needs more work in terms of the user interface as well as functionality)
While all apps did their job (some a little faster than the others), we will tilt the balance slightly in favour of SMSBlocker. The app is feature-packed and gave us more than what we expected; we especially loved the Block My Ex feature (for reasons best left unexplained!).
With this we come to the end of another comparison. Keep track of this space for your weekly dose of App Tracker. Note that you can also suggest an app/category you want to be reviewed/compared and we will do the same. Till we come up with another App Tracker, keep tracking.
Comment(s)