The soaring share price of Just Dial Ltd, which runs the India-specific local business listings site Justdial.com, has made its founder VSS Mani one of the richest Internet entrepreneurs in India. As the share price of Just Dial hit a new high on Friday, Mani's 29.08 per cent stake in firm along with his wife was worth Rs 1,375 crore ($240.9 million).
Just Dial scrip was up 11.8 per cent in intra-day trade on Friday to Rs 676.8, giving the firm a market capitalisation of Rs 4,727 crore. The scrip closed at Rs 647.40, up by 6.99 per cent, giving the firm market capitalisation of Rs 4,525.33 crore.
Just Dial scrip closed its first week of trading up over 22 per cent, from Rs 530 per unit issue price in the public offering.
At Friday's closing price, Mani's stake is worth Rs 1,316 crore. Besides, he netted Rs 135 crore through sale of shares in IPO and to private equity investors last year.
This puts him in close quarters with India's other Internet
millionaire Sanjeev Bikhchandani, founder of Info Edge (India), whose 35.6 per cent in the company is worth Rs 1,303 crore. But Bikhchandani also controls another 8 per cent in Info Edge, which runs the job portal Naukri.com, along with CEO Hitesh Oberoi through a trust.
For 47-year-old Mani, who set up Just Dial in 1997, this would mark resounding success in his efforts to list the company after several false starts since 1999 when it sold stake to Raj Koneru's Indiainfo.com. Indiainfo.com's stake was bought by SAIF Partners and Tiger Global in 2006 and 2007.
Besides Mani, the successful listing also further enhanced returns for venture capital investors, who still collectively own over 40 per cent in Just Dial.
With the successful listing of Just Dial, Sequoia Capital India's late stage, pre-IPO investment in the company has paid off with 33 per cent as per Friday's closing price. In July 2012, Sequoia Capital's two growth funds invested Rs 305 crore in the company at Rs 488.6 per share just after Just Dial public offering failed to take off. The investment was one of the largest venture capital rounds in India to date.
The listing also lifted other investors returns from Just Dial (see table).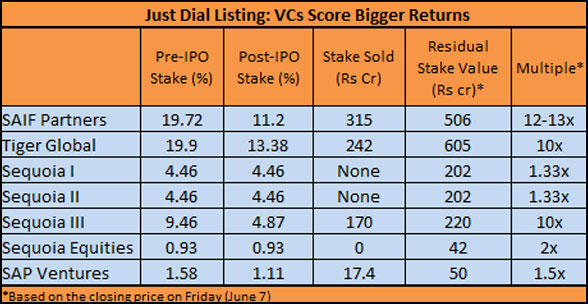 Just Dial has managed to meet analyst's target price in its first week of trading. Motilal Oswal Securities came out with a report on June 4 with target price of Rs 660 per unit.
"We expect the company to post revenue CAGR of 33 per cent over FY12-15E, complimented by 560bp margin expansion on account of a shift in search mode from voice-based to Internet and mobile-based search, thereby improving the operating margin. Consequently, we expect 43 per cent PAT CAGR over FY12-15E. Given that Just Dial is in a high growth phase, complimented by asset light business model, virtual monopoly in voice search segment, negative working capital cycle, high free cash flow, strong dividend payout and healthy return ratios, we believe the premium valuation is justified. At issue price of Rs 530 the stock is trading at 33.8x and 24.7x FY14E and FY15E EPS of Rs 16 and Rs 22 respectively. We value Just Dial at 30x FY15E EPS of Rs 22 and arrive at a target price of Rs 660, an upside of 25 per cent," said the Motilal Oswal report.
(Edited by Joby Puthuparampil Johnson)
---