Noida-based app development company AppStudioz Technologies Pvt Ltd  is targeting $4 million in revenues in this fiscal year (FY14). The startup develops apps, on the basis of the requirements it gets from its clients, in a number of categories such as consumer, enterprise, mobile gaming, healthcare, navigation, media, and has also tapped new trending areas such as augmented reality and 3D gaming.
It generates revenues from the business it gets, which basically means it gets paid for each app it successfully develops. "AppStudioz touched revenue of $1 million in its first year of business and close to $2 million in this second year of operation. We are now targeting $4 million in revenues in this fiscal year (FY14)," said Saurabh Singh, founder and CEO, AppStudioz.
The company claims to have already developed over 750 apps, of which 100 are mobile games, while the rest are utility, enterprise or consumers apps. It has already served over 230 clients to date; its clients include Times Group, ESPN, Coca-Cola, JK Tyres and a number of e-commerce companies such as Dealsandyou and Fashionandyou.
The startup was founded in May 2011 by Singh. Prior to AppStudioz, Singh has worked with XEN GlobalTech, SKAN DbyDx Software Pvt Ltd and BrickRed Technologies. The startup also has a sales presence in the UK and Australia. The current team size is around 160 and the company is planning to increase it to over 250 in the next six months. "We are getting a lot of repeat business from previous clients. So we are forced to increase the team by 10 per cent every month," Singh said.
The company competes with players such as Sourcebits and RoboSoft. Singh said apart from being quicker in terms of the time to market for any app, AppStudioz is more cost effective than its competitors. Also, instead of simply designing the apps according to the customer's requirement, the company also gets into the creative side of the app and has a separate team for the same.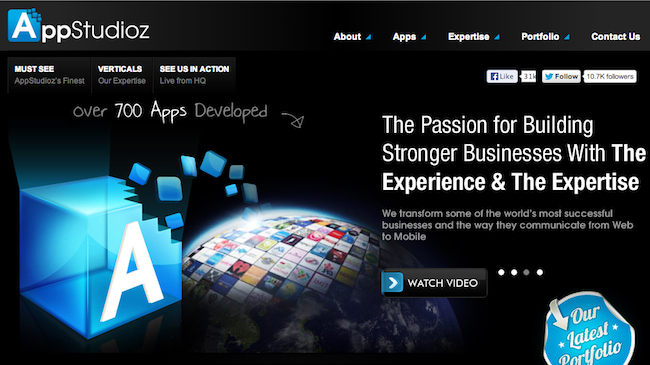 Challenges, funding and focus areas for 2013
While the startup has its roots in India, most of its business comes from markets such as North America, Europe and Australia. While North America accounts for over 50 per cent of its revenues, India's share is under 10 per cent (though this has been increasing in the recent times).
"Since most of our clients are from outside India, we have been getting a lot of demand to have an international presence. We will be setting up an office in the US in the next six months to cater to our clients abroad," Singh said. The company is looking to raise $2 million in funding for the same, though Singh has not set a time frame. He not only wants funds but the right partner as well. This year, the company will focus on areas such as wearable mobile computing, mobile gaming and enterprise apps. It is planning to increase the number of apps developed by it to 1,300 by the end of 2013.
(Edited by Joby Puthuparampil Johnson)
---