All you need to know about Apple's new operating system & iTunes Radio

At the ongoing Worldwide Developers Conference (WWDC) in San Francisco, Apple yesterday unveiled iOS 7, the most significant iOS update since the launch of the iPhone, as well as a free Internet radio service called iTunes Radio. In this story, we are going to have an in-depth look at both; let's start with iOS 7.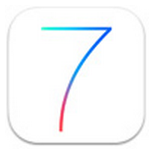 iOS 7
For the first time, iOS 7 has been completely redesigned and features an entirely new user interface. Apart from the dramatic change in the colour palette, the typography has been refined for a cleaner, simpler look, and the company has made use of translucency for better visual appeal. The prominent feature additions to the iOS 7 include:

Control Center: This enables users to access the 'controls' they usually would want to frequently, in a convenient spot. These include airplane mode, Wi-Fi, Bluetooth, do not disturb, the ability to adjust screen brightness and media controls. Control center also gives you instant access to frequently used apps such as clock, camera, calculator and the flashlight, with just one swipe from the bottom of your screen.
Notification Center: It is now available from the lock screen itself, which means you don't have to unlock the phone every time you want to view it. A new 'today' feature shows you an at-a-glance view of your day with a summary of the important details such as weather, traffic, meetings and events.
Improved multitasking: unlike earlier versions, all apps have the capability to multitask in the background. Users can switch between their apps in a more visual way, and iOS 7 automatically keeps the content of the apps (used the most) up to date in the background. You can also view all the running apps in a more visual manner and can tap on one to enter it.

AirDrop: This enables users to share content with people nearby. For the same, AirDrop shows you your contacts close by and users can simply select the ones they want to share with. The sharing is done without any network or set up, and transfers are fully encrypted so that the content is protected and private.
Photos app: The app has been redesigned and now offers 'moments', a new way to automatically organise photos and videos based on time and location at which they were taken. And as users keep zooming out of the library, they can view the photos based on 'moments', 'collections' (photos taken at the same place at different time intervals) and 'years'. The app also includes iCloud photo sharing.
Camera app: The camera app now features filters so that users can add real-time photo effects. It also offers two new modes—a square camera option and a panorama option. Users can choose one mode or the other with just a swipe.

Safari: This enables users to view more content with full-screen browsing. A new smart search field helps with searching, and users can now view bookmarks and Safari tabs in a different way (something like a music record library). Also, the tabs are no longer limited to just eight now. An 'iCloud Keychain' feature—that enables users to save passwords and credit card information—has also been added.
Interestingly, enhanced parental controls have also been added that allows users to automatically block access to adult websites or only allow access to a specific set of websites.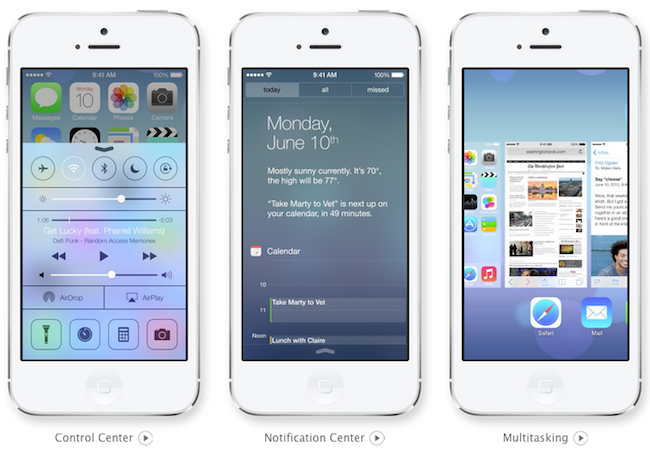 Siri: This has received a facelift and now displays a sound wave while the user is speaking. German and French voices have also been added, with more languages coming in the future, and a new male voice has also been added to the mix, although we wonder if Siri is an appropriate name for a guy (why not call them Siri and Sam?). Siri can now do more in the sense users can also ask it to increase the brightness of the screen or turn on the Bluetooth. Other features include Twitter search and Wikipedia integration.
iOS in the car: This is not very relevant for Indian users as of now; the feature basically offers deeper integration of iOS inside the car. Users can make calls, view messages and get directions—all on the screen of their vehicles with iOS in the car.
App store: The app store also comes with a new feature that allows users to search apps on the bases of age (6-8 years, 8-12 years, etc) or location; if you search in India, you will get the most popular apps in the country as of now. Additionally, users don't have to update individual apps since the app store does it automatically. However, we feel this feature can also spell bad news for users on a limited data plan, since updating apps requires data.

Activation lock: A very handy feature, the new 'Find My iPhone' activation lock feature ensure that even if someone steals your iPhone and erases all its data, they still won't be able to re-activate the device without the original owner's Apple ID and password.
Phone, FaceTime and messages blocking: Instead of relying on blocking apps , Apple has now provided a new phone, FaceTime and messages blocking feature in iOS 7 that will enable users in preventing specific people from contacting them.
In addition to these, 'FaceTime audio' enables audio calls over a data network, while with notification sync; when you dismiss a notification on one device it is dismissed on all of your devices. The new 'Game Center' no longer has the wood and green felt colours, instead the company has opted for a more colourful combination of pink, yellow, blue and green. While messaging, content slides off the keyboard which can be visually appealing or annoying depending on the user choice, and multiple pages for each 'created folder' means you can now store hundreds of apps in a single folder.

The weather app actually shows you the weather, along with providing information on the same, and as you move the device, it tracks your movement to give you a nice in-depth view of the background wallpaper. Users can now gesture from left to right to go back while messaging, mailing or using Safari.
The iOS 7 beta software and software development kit (SDK) are available as of now for iOS developer program members, while iOS 7 will be available as a free software update for iPhone 4 and later, iPad 2 and even later, iPad mini and iPod touch (fifth generation) in the coming months.
Introducing iTunes Radio
The company also introduced a new free Internet radio service based on the music you listen to on iTunes. The service, called iTunes Radio, features over 200 stations and the entire catalog of music from the iTunes Store. Built into the music app, when you tune into iTunes Radio on your device, users will have access to stations inspired by the music you already listen to, 'featured stations' curated by Apple, as well as personalised genre-focussed stations. Interestingly, the iTunes Radio evolves based on the users listening history and past purchases from iTunes; hence the more you use iTunes Radio and iTunes, the more it knows what you like to listen to and the more personalised your experience becomes.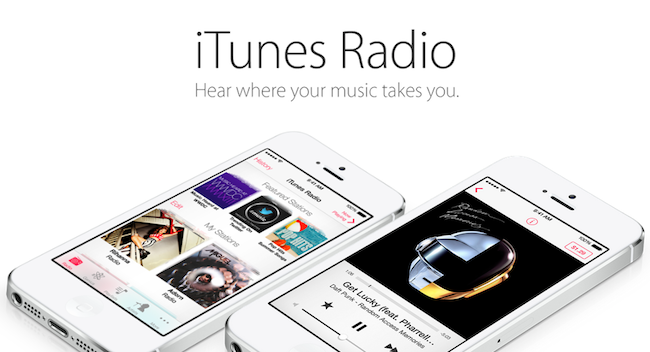 The radio will also provide access to exclusive 'first listen' premieres from top selling artists, Siri integration, plus the ability to tag or buy anything you hear with just one click. In addition, if you're listening to a song you like from iTunes Radio or your music library, you can build a station around those. Users can search for artists, songs, or genres, and iTunes Radio will instantly build a station around their choice. Users can also share music with friends or view what they are listening to. A history of all visited stations means you never lose an important station.
With Siri integration, users can make Siri play/pause/skip a song or a station, and can also make Siri add songs to their 'wish list' for downloading at a later point in time. While iTunes Radio is free for everyone (ad-supported), iTunes Match users will get iTunes Radio ad-free.
(Edited by Joby Puthuparampil Johnson)
---