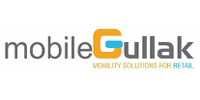 mobileGullak, a mobility solution for retailers owned and operated by Naffa Consulting Services LLP, is minting money with 'loose cash'. It started operation in March 2013 and is already profitable.
The Varanasi-headquartered startup was founded by Kumar Abhishek in 2012. The company has three partners—Bhoomija Khanolkar (manages public relations and strategic alliance), Akshay Singh (director - marketing and operations) and Vivek Singh (director - account and finance). Currently, it has operations in Bangalore and Pune. Abhishek looks at the overall roadmap, strategy and technology at mobileGullak. Earlier he worked with Infosys, Mindtree and IBM. He holds an MBA from School of Inspired Leadership, Gurgaon, and an engineering degree in Computer Science from Kolhapur.
What is mobileGullak? How does it work?
The company provides a mobility solution for retailers that can add value to their customers. This is how it works: often, retailers have to keep a stock of coins to tender exact change. This adds 5-10 per cent of cost for maintaining a balance of coins always in the cash drawer. At times, when retailers and customers cannot tender exact change to each other, customers unwilling make purchases in the form of chocolates, toffees, etc, end up not buying any goods from the retailer. This often results in loss of customers for retailers, according to Abhishek.
"We often face change/loose cash problems while shopping and ultimately end up buying toffees or chocolates or forced to buy something else from the retailer in lieu of change. So, we want to give a meaningful option to a meaningless candy," he said.
Put simply, as the name 'gullak' (piggy bank) suggests, the company helps customers in accumulating the change money via mobile and web. The loose cash left at the retailers gets accumulated in the customer's mobileGullak account. The account enables users to avail themselves of accumulated money to pay their mobile, DTH and data card bills.
As of now, it has two solutions for retailers—scratch card and POS machine. mobileGullak's scratch card has a code on it which can be used on the IVR to save the change on customer's mobileGullak account.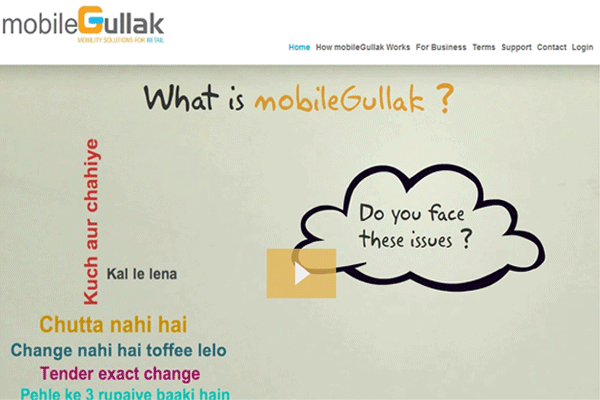 Also, a retailer can opt for a POS-based solution where he/she can punch a customer mobile number to the POS machine and the amount gets credited as customer's mobile balance.
The company eyes canteens/cafeterias of colleges and offices as target market.
"Loose cash issues are always there in such canteens where the transaction amount size is small; through mobileGullak retailers can escape 'khaata' system maintained by students/youngsters," said Abhishek.
How it mints money with loose cash
mobileGullak's service is free for both customers and retailers. Bootstrapped to date, the startup earns from the ads on scratch cards.
"We are specialised in local area advertisements and can tailor-make content as per advertisers' needs to reach people," Abhishek said.
He said apart from solving problems affecting offline retailers, mobileGullak's platform provides a way for e-commerce companies to build a personal interaction/experience with customers.
The company is going to unveil its mobile app by end of June this year. The will enable augmented reality supported ads and fun activities.
Growth trajectory
In two months of operations, the startup has rolled out 20,000 scratch cards in Bangalore and Pune and by June end, it will be rolling out 80,000, a top executive told Techcircle.in. It has also bagged contracts from the canteens of five MNCs in Bangalore and three colleges in Pune.
mobileGullak has already attained break-even and has started generating money. "We are able to run the business with the money generated, but we will go for funding in 2014 for expansion," Abhishek said.
The startup is also looking to replicate the business in other parts of the country this year. It will also expand into foreign markets in 2014.
(Edited by Joby Puthuparampil Johnson)
---