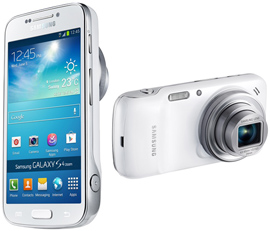 Samsung is at it again. The company first launched its next generation Galaxy S4 device in March this year, then followed it up with a mini version of the same. Post that came a rugged water- and dust-resistant version of the smartphone called Galaxy S4 Active. The company has now unveiled Samsung Galaxy S4 zoom, a new device which combines the latest Galaxy S4 smartphone with advanced photographic capabilities. For the same, it has provided a 16 mega pixel camera in the device. Here is a look at its specifications.
This smartphone has a 4.3 inch qHD Super AMOLED capacitive touchscreen display (960x540 pixel resolution) with 256 pixels per inch density and runs on the Android 4.2 Jelly Bean operating system with Touchwiz user interface. It is powered by a 1.5 GHz dual core processor, has 1.5 GB RAM and comes with 8 GB internal storage (only 5GB is available to the user), which can be expanded up to 64 GB with a microSD card.
The device sports a 16 megapixel (nice!) autofocus rear camera with Xenon Flash that can record full high definition videos (1080p) at 30 frames per second and a 1.9 MP front-facing camera for video calling. The rear camera comes with 10x optical zoom, which is pretty nice for a smartphone. Furthermore, the built-in Optical Image Stabilizer (OIS) helps keep the camera perfectly still even when you're not, reducing blur and stabilising the image while zoomed in. You can also select from a series of pre-set modes via Smart Mode, and the camera will automatically adjust to ensure you capture the best photo possible. Drama Shot can merge continuous shots of moving objects into a single composed image, while Action Freeze can instantly capture high-speed action.
On the connectivity front, the device has Bluetooth 4.0, Wi-Fi, 3G and 4G (depending on the region) and a microSD card slot. It has a 2,330 mAh battery and comes with GPS with A-GPS support and Near Field Communication (NFC). The dimensions of the device are 125.5mm x 63.5mm x 15.4mm and its weight is 208 gm.
The smartphone also comes with Zoom Ring, a simple way to access Galaxy S4 Zoom's key features. It can be used for capturing and sharing pictures via MMS while the user is attending a phone call. For camera navigation, the Zoom Ring can be used to activate quick launch and shortcut features, giving you access to multiple camera modes. Additionally, Zoom Ring changes camera zoom controls by replacing traditional dials and buttons with easy-to-operate digital controls for the optical zoom.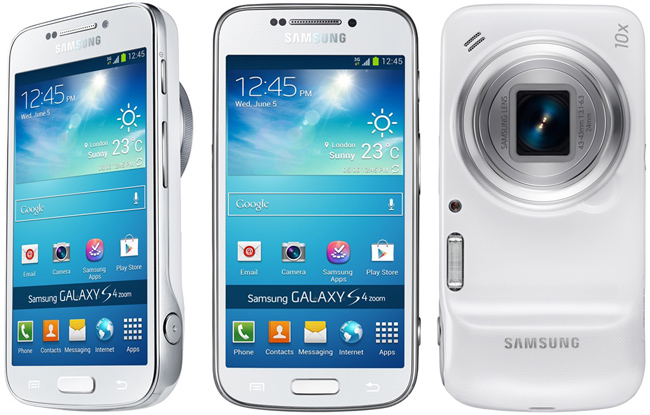 Additional features
Group Play: Allows users to enjoy music, photos, documents and games with those around them without requiring a Wi-Fi or cellular signal. The feature enables users to connect directly with others to share, play and co-create content and entertainment instantly.
Story Album: Lets you arrange images and videos into one timeline to share with friends and loved ones. You can edit images or transfer them to a laptop or tablet via Samsung Link.
Photo Suggest: Connects you to libraries of images taken by fellow photographers. It can even direct you to the ideal nearby location which will give you the vantage point you need for a better photo.
S Translator: Provides instant translation, using text or voice translation on applications including e-mail, text message and ChatON. Instant translation is possible both ways—be it speech-to-text or text-to-speech.
Then there is the Samsung Hub that provides a single entry point for Samsung's contents and services, its instant messaging app ChatON, and a suite of Google apps.
With Galaxy S4 Zoom, the company wants to offer a single device that can fulfill the role of both a leading smartphone and a high-end compact camera. And while the specifications of the device are decent, and the 16MP camera along with its additional features is very good (at least on paper), we are not all that fond of the design of the smartphone. The addition of the powerful camera actually makes the device fat and heavy. It is actually almost twice as thick and 78 gm heavier than the original S4, which is 7.9mm in thickness and weighs only 130 gm. We feel this one should only attract the photography enthusiasts.
(Edited by Joby Puthuparampil Johnson)
---