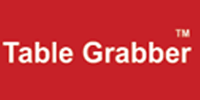 Delhi-based TableGrabber Pvt Ltd, which offers online restaurant reservation and status updates in real time via its website TableGrabber.com, claims to have partnered with 400 hotels across Delhi, Mumbai and Bangalore for the service. The company initially started operations across Delhi-NCR and expanded to Mumbai and Bangalore within a short period. It also says it has catered to more than 22,000 diners so far.
Set up in July 2012 by a group of graduates from the US-based Cornell University, Harvard University and Massachusetts Institute of Technology (MIT), the startup enables users to book tables for free. They can also take advantage of exclusive deals and offers by making reservations through TableGrabber.
"Making a restaurant reservation in India is very frustrating," said Pawan Marwaha, co-founder and 'chief grabber' at TableGrabber. "We personally faced this problem many times and started comparing the scenario with the US. Then we spoke with restaurateurs and realised that they still follow the pen-and-paper method to manage reservations. We sensed an opportunity there and decided to build an easy-to-use e-reservation system, which allows restaurants to accept reservations 24/7 and 365 days."
Marwaha holds a master's degree from the Hotel School at Cornell University. He has over 12 years of experience in investment banking and hospitality management, and worked with leading hotel chains like Hilton, InterContinental, Fairmont and Taj.
So how does TableGrabber work? While diners can search for restaurants, make instant reservations and opt for exclusive deals and discounts, hotels & restaurants can manage their reservations and guest lists with the help of the company's electronic reservation diary (ERD). The ERD records all bookings made by diners and checks for table availability at restaurants in real time. The startup also provides backend software for restaurants to digitise their reservation process, which allows them to confirm reservations in real time. Additionally, it provides a CRM system to its clients for tracking guest history and preferences.
Upfront, the site provides a nice and clean user interface, making reservations hassle-free. You can browse restaurants by location, cuisine, price and special criteria (such as dance floor, private room and Wi-Fi). Interestingly, the site lists a large number of restaurants specialising in a wide variety of cuisines. The home page also features best fine dining and best casual dining facilities, as well as most booked restaurants, based on user reviews.
TableGrabber charges a small monthly fee from restaurants for listing on the site. In addition, restaurants need to pay a small commission on every reservation generated through the TableGrabber site.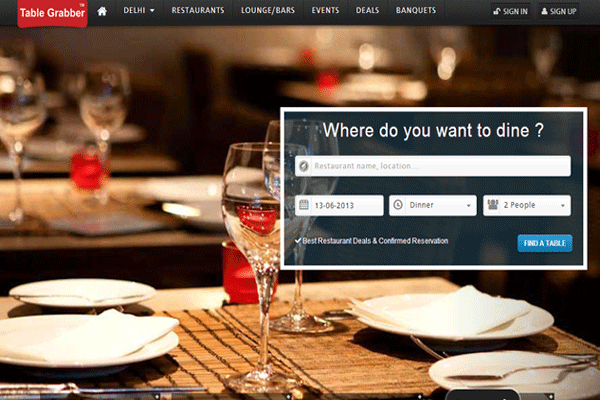 Although a bootstrapped company till date, the startup is not looking to raise funding right now. The firm is currently being incubated at Microsoft Accelerator in Bangalore and has also been selected for Start-up Chile Program in 2013. It was the winner of the Economic Times' Power of Ideas award and received a grant of $10,000 besides securing $40,000 from Start-up Chile.
Competition and growth map
"Although there are some established listing websites that are doing a great job of giving restaurant details, menus and reviews, they fall short of allowing the diners to make instant and real-time reservations. That is the gap we fill on the consumer's/diner's side," said Marwaha.
About competition in this space, the TableGrabber co-founder said, "Restaurant reservation is a relatively new sector and the landscape is still evolving. However, we face competition from a few established names such as ZipDial, Zomato and Burrp. While ZipDial is a lead generator and passes on contact numbers of restaurants to users, Zomato is a great listing site, featuring extremely relevant information."
However, Burrp is in direct contention as it does table booking on a large scale while Zomato is not there yet. But it will be interesting to watch how TableGrabber performs if Zomato, a leading company that provides restaurant and event listing with more than 94,000 restaurants on board, launches its table reservation service.
Marwaha was not daunted, though. "We offer a performance-based pricing model, which means we make money when restaurants get new reservations from our site. That is one USP which should benefit all in the B2B space," he said.
But challenges are there in the B2C space as Indian diners don't usually make reservations and it can be a point of concern. "But we are changing that by incentivising the whole process with the help of our loyalty programme. After making 10 reservations through TableGrabber, we give a free dinner voucher that can be used at any of our partner restaurants."
The company has not reached break-even yet, but according to Marwaha, the restaurant industry in India is changing at a rapid pace and offers some good opportunities. "With the rise in institutional money being invested in the restaurant space, investors are expecting streamlined processes and procedures, along with business intelligence reporting. We foresee a lot of new technology-focused solutions for the restaurant industry and restaurant reservation management will be one of the first things to be adopted," he concluded.
(Edited by Sanghamitra Mandal)
---