Oneup Ventures Pvt Ltd, the company that owns and operates Little1.in, an online platform that enables parents to record and preserve memories of their children (both online and offline), has raised under $100,000 from Ravi Malik, co-founder of Malik Radix Healthcare, a Delhi-based private nursing firm. The investment has been made by Malik in his personal capacity and as part of the funding, he will join the company's board. The funds will primarily be used for accelerating the firm's marketing efforts—both online as well as offline—and product development.
"There is only one pretty child in the world, and every mother has it. Every moment with children is worth treasuring and Little1 allows parents to do the same. With the product, we are targeting new parents and parents with kids up to four years of age," said Sabarish Nair, co-founder and CEO, Little1.
The Kolkata-based startup was founded by Nair and Naresh Baid (COO) in April 2012. Prior to launching Little1, Nair worked at companies such as Kotak Mahindra Financial Services Ltd, Bank Muscat and HDFC Bank. He holds a diploma in hotel management from Institute of Advanced Management, Kolkata. Baid earlier worked at Kotak Mahindra Bank and HSBC, and holds a PGDBM in international marketing from New Delhi Institute of Management.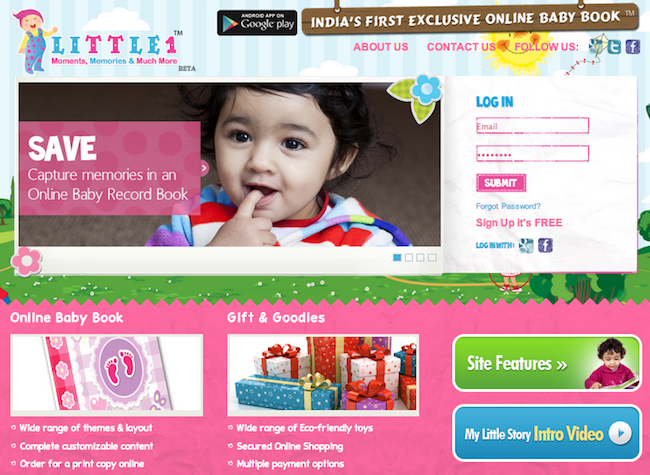 Little1 offers a multi-utility parenting platform that helps parents in saving (via an online baby record book), sharing (securely and privately) and storing memories as well as important medical and health records. Other features offered by the site include family tree, baby's milestone calendar, growth chart, dental tracker and parental journal. The site is in public beta as of now and the company is planning to launch it by the end of July 2013. Once out of beta, for generating revenues, the startup will look at selling print copies of the baby record books as well as e-commerce (it is planning to offer gifts and home décor items).
The company already has an Android app and will also launch an iPhone app in a few months. According to Nair, the Website has been adding around 1,500 members a month and expect to have at least 25,000 members by the end of this fiscal year.
This is the second round of angel funding for the startup this year. In January 2013, it raised $80,000 from an unnamed investor. The company was also the regional winners of Microsoft BizSpark Startup Challenge 2013 (from Kolkata).
(Edited by Joby Puthuparampil Johnson)
---