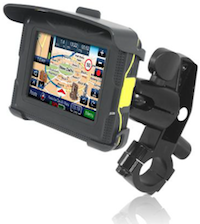 GPS navigation provider MapmyIndia has launched yet another GPS navigator device for the Indian market. But unlike its predecessors, which mainly target four-wheelers, this one has been especially designed for bikes. The new device is called Trailblazer 2 and comes with a 3.5 inch touchscreen display. It also includes multimedia features like music, movies and photos on the go (although we can't imagine anyone actually watching a movie while driving a bike).
As for specifications, the device sports a 3.5 inch TFT LCD touchscreen and runs on the Windows CE 6.0 operating system. The internal memory of the device is 2 GB, which can be expanded an additional 4 GB with an SD card. It also comes with a 1,000 mAh battery.
The device also comes pre-loaded with a 'don't panic' software, a fast and easy-to-use GPS navigation software interface, powered by 3D and house-level maps from MapmyIndia. It offers door-to-door navigation covering house addresses in 50 cities, 10.33 million points of interest (across various categories), over 5,000 cities at street level with localities, streets and landmarks, and 6 lakh towns and villages across the country. In addition, it will also offer 3D landmarks across India and 2D building footprints across 36 cities.
"Our research shows that more Indians are driving than ever before. The number of bikers has risen dramatically and bikes are being used both as utilitarian as well as recreational vehicles. Therefore, we decided to launch Trailblazer 2. It addresses not just their daily travel needs but also allows bikers to seek new travel routes for their recreational road trips," said Shivalik Prasad, executive director of MapmyIndia.
The device can be charged directly from the bike's battery and has a special bike clamp mount to keep it steady on the bike handlebar. While driving, one can listen to MapmyIndia Trailblazer 2 voice instructions with any standard Advanced Audio Distribution Profile (A2DP) Bluetooth headset (not part of the package, customers will have to purchase it separately). The driver, as well as the pillion rider (in a range of three metres from the device), can tune in to listen to directions from the unit. It can also be unclasped from the bike when not in use.
Trailblazer 2 is priced at Rs 16,990, which is a one-time charge with no recurring usage charges and no dependence on internet/mobile network for navigation. It can be purchased online and the company is also providing cash on delivery (COD) as a payment option.
Delhi-based MapmyIndia offers digital maps and data, GPS navigation and tracking devices, location apps and enterprise geographic information system (GIS) solutions. Its product range includes portable GPS navigator devices, in-dash navi-tainment (navigation+entertainment) systems, mobile apps and printed maps & books, among others. In August last year, the company expanded its product range by launching CarPad 5, an all-in-one GPS navigator, smartphone and 3G tablet.
MapmyIndia is backed by a host of private equity firms such as Qualcomm Ventures, Kleiner Perkins Caufield & Byers (KPCB), Sherpalo Ventures, Nexus Venture Partners and Zenrin Co Ltd.
Other navigation devices providers in the country include Garmin Corporation (a part of Garmin Ltd) and Dutch navigation service provider TomTom, among others. Last month, TomTom, which entered the Indian market in September 2011, strengthened its foothold in the country by updating its maps further and expanding to around 7,200-plus cities and towns for its VIA Series of portable navigation devices. The company also upgraded its MyTomTom mobile app for faster map downloads.
(Edited by Sanghamitra Mandal)
---