Despite hectic work schedule, many wouldn't want to miss their favourite TV programme. Live TV apps seem to be boon for those who are always on the move and yet want to be loyal TV watchers. These apps let you watch your favourite TV show on your smartphone, at your own convenience. But which TV streaming app is the best among the pack? Which one will entertain you without frequent buffering? Which one will really bring 'live TV' on your phone? To answer these questions, we are reviewing the popular TV streaming apps in this week's App Tracker.
We scouted some of the well known ones and reviewed them on the basis of user experience, video clarity, number of channels offered and subscription packages. Though most apps work on 2G as well, the best quality can be enjoyed only on 3G or Wi-Fi.
Myplex TV
Myplex TV is a live TV streaming app from Apalya Technologies. The home page displays popular channels, new arrivals and favourites. Users can browse videos in two sections—LiveTV and videos on demand. An electronic programme guide is also available.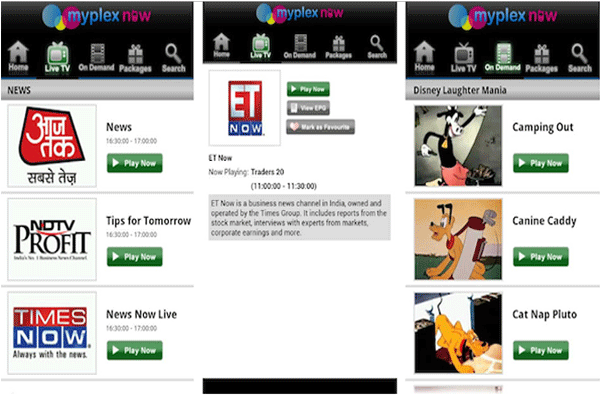 A separate tab for packages lets the user see what packages are available. The packages can be bought as part of the user's billing—for pre-paid users, the amount will be deducted from the balance and for post-paid customers, it will be added in the bill. A lot of economical packages are available. Users can buy a single-channel pack for Rs 10 or several packs based on the validity period—daily, weekly or monthly. Videos run smoothly on both 2G and Wi-Fi without much buffering. The app is also easy to navigate and doesn't lag. However, we didn't find popular TV channels such as SAB TV, Zee TV or any of the English entertainment channels, though regional channels and almost all news channels are there. The app does its job decently but the bouquet of offerings needs to be enlarged.
User reviews: The app saw over 5 lakh downloads in the last 30 days on Google Play. The average user rating for the app is 4.2.
TC rating: 3/5 (it's a decent app and prices are quite economical; but the app needs to widen the set of channels that are offered).
ZengaTV
The app's interface is quite refreshing. The content is segregated in various categories such as live TV, movies, videos on demand and events. Users can also choose the resolution of the videos—low resolution (2G), high resolution (3G and Wi-Fi) and high definition—on the settings page. Once a video is chosen, the app takes you to a Web browser where it plays the video.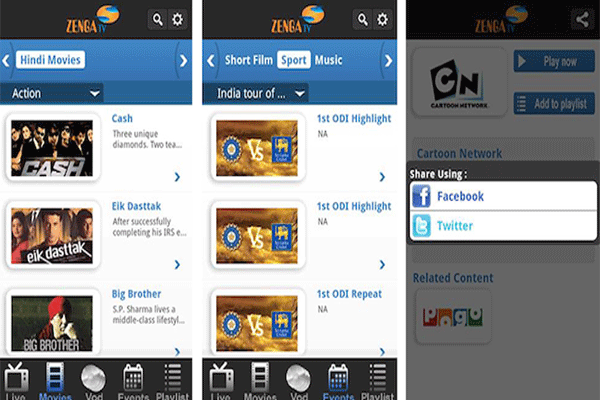 Despite glitches—often, it is difficult to play videos and the app lags too—users may find this app attractive as it is completely free. But it has to enhance the whole package.
User reviews: The app saw over 1 lakh downloads on Google Play in the last 30 days. The average user rating is 3.9.
TC rating: 2/5 (streaming needs to be improved).
Ditto TV
After installing, when a user opens the app, it asks he/she to download the Adobe AIR which helps the app run on your device. As soon as the user clicks 'ok' for Adobe AIR, the app directs he/she to the Adobe's app on Google Play. The app starts with five options on its home screen—information, TV shows, my account, live TV and movies. The first option provides news and information on weather. The app offers a two-day free trial; after the trial period, the user has to sign up. The app lists segments such as live TV, TV shows and movies; while some segments are offered free, users have to pay upto Rs 60 to access others. Using a single account, the user can use Ditto TV on any two devices, which means he/she can switch between PC, tablet and mobile phone.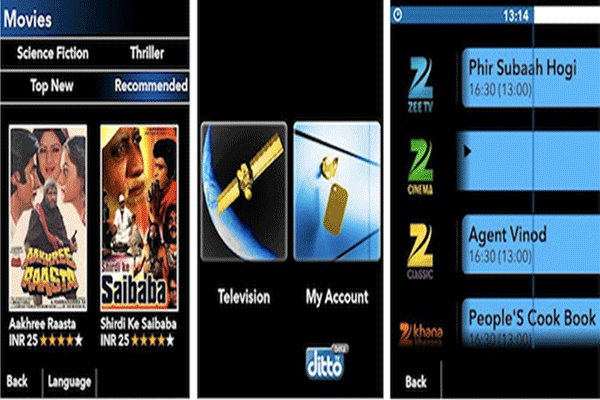 The TV shows category has a large number of shows' titles, including famous shows such as 'Hum Paanch'; it also lists some international shows. In addition to shows in Hindi and English, the app has TV shows in south Indian languages. For the TV shows and movies categories, a user can browse title sections such as action, comedy and fiction and can also choose from sections such as 'recommended' and 'free'. The TV shows section is in the beta mode. When you select a movie/show to watch, the app provides a trailer, a synopsis and information on the cast and crew.
In 'live TV', a user can see titles of the movie/show running on that particular time, and can ascertain when it started and how much is left. The live TV segment does not have category wise sections; it only offers around 50 live channels. The user interface is also cluttered.
The app provides information on the programmes that are going to be telecast within 24 hours. It also lets the user change video quality according to Internet speed, screen size, etc.
We watched live TV for about half-an-hour on Wi-Fi; it did not hang or stop for buffering. We also watched five channels on live TV; the video quality was not bad.
User reviews: According to Google Play, the app was downloaded between 100,000 and 500,000 times in the past 30 days. The average user rating for the app is 4/5.
TC rating: 3.5/5 (users may want to have more live TV channels to surf; category wise sections for TV channels would be an added advantage. The user interface can be smoother).
nexGTv
The app does not disappoint with its user interface—it's smooth. The user can go through a detailed user guide and can rearrange channels based on his/her priorities.
The user can scroll through available channels and see the list of shows that are lined up for the day on that channel. Also, while watching a particular channel, he/she can surf other channels, which appear in a smaller screen.
The app has about 120 live channels and only a few channels are free. The subscription starts from Rs 25. The app has various features such as on-demand content and has a replay feature using which one can play programmes telecast the previous day (this is a paid feature).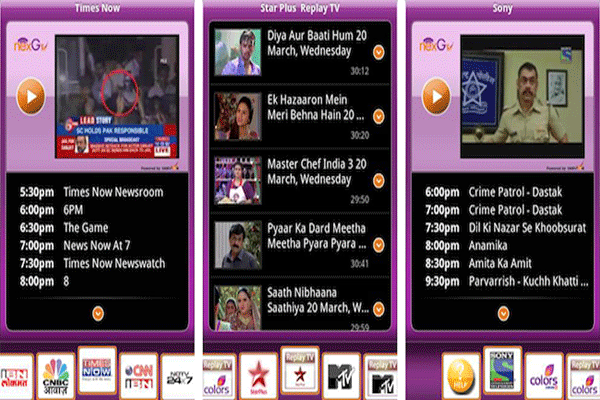 The user is not provided with a guide/section to ascertain which channels are free and which ones are paid—he/she can figure this out only when he/she clicks on a channel to watch.
We watched only free channels on Wi-Fi; video quality was good and videos did not buffer. However, if your phone gets locked or you get a call while watching TV, the channel does not resume immediately. Videos always start with ads, which can be annoying. Sound quality is also not impressive.
User reviews: According to Google Play, the app was downloaded between 1,000,000 and 5,000,000 times in the past 30 days. The average rating for the app is 3.9/5.
TC rating: 2.5/5 (sound quality should get better; also the user would like to have a section in the user guide where he/she can see which channels are free as well as the price cards for other channels).
There are many other apps in the market that let users watch live TV. Some TV channels have their own apps as well. Ditto TV stands out among the pack due to its value-added features and seamless streaming. Users are mainly looking for the maximum number of channels and better audio/video quality. Users wouldn't be impressed even if an app has amazing video quality but offers only select channels. We hope this week's App Tracker will you decide which app is best for providing mobile entertainment. We will be back with the next App Tracker in a week.
(Edited by Joby Puthuparampil Johnson)
---