Telecom operator Airtel has lowered the tariff plans for 4G services for both prepaid and postpaid subscribers in Bangalore, Kolkata, Pune and Chandigarh (the cities it is currently offering 4G services). Post reduction, the cheapest 4G plan is now available for Rs 450 and will provide users with free data allowance of 2GB. Similarly, Rs 650 and Rs 750 can now get you data benefit of 3GB and 4GB respectively.
We compared the 4G tariffs with the ones for 3G in Bangalore and found that while the basic plans start at a much lower price point for 3G (Rs 103 for 300MB of 3G data), Rs 455 and Rs 755 packages offer identical benefits of 2GB and 4GB for 3G, though at a slightly higher price. Interestingly, for Rs 999, 4G users are getting much more value for their money with 10GB of data allowance, in comparison to 3G users who have to shell out Rs 1,505 for the same amount of data. See table below for a detailed comparison of 3G and 4G.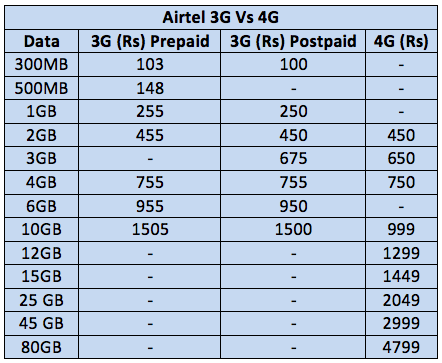 Note that 4G users will be charged 50p/100KB after free data quota. Alternatively they can opt for smartbytes, a service that enables users to add data post crossing the free data quota. The company is also offering a 40GB data plan for Rs 2,000, but it is a Wi-Fi router locked plan and will be available in select geographies only. For 3G users, charges post data plan benefit usage is applicable at 3p/10Kb.
In addition, customers subscribing to Rs 999 and plans above that can avail free access to a library of 1,000 movies (through Airtel Movies) and 100 games (through Airtel games). To provide the same, the company has partnered with online videos streaming site BigFlix and games developer Indiagames. Note that the company doesn't offer any such additional benefits to its 3G customers.
The company currently offers two kinds of 4G devices for customers—the Airtel 4G dongle (priced at Rs 1,500) for laptops and PCs, and the Airtel 4G CPE Router (priced at Rs 4,000), which offers a home Wi-Fi solution that enables multiple devices (including 3G smartphones and 3G tablets) to access Internet at 4G speed. However, its 4G services are not yet available on mobile handsets outside of the Wi-Fi router network.
Should online video streaming sites be happy?
The most important requirement for online video streaming is an active Internet connection (apart from the hardware and a subscription to such services). The faster the connection, the more convenient it is for the viewer.
In that context, the new plans definitely make 4G affordable for a number of people, which means they will be able to watch videos without interruptions like buffering of the videos. But on the flip side, Airtel is the only operator providing 4G services in India as of now (Jio Infocomm (RIL)'s plans to launch telecom service on 4G technology are at least a few months away), and that too in just four cities. And the service in itself has not seen a lot of adoption even in those areas; so there is a long way to go.
We feel that the best thing that Airtel can do is slash its 3G prices to match those of 2G. This can lead to the second price war among the telcos (we had covered the first one in detail last year), which will only benefit the end users, as well as online movie/video streaming sites in this case.
(Edited by Joby Puthuparampil Johnson)
---