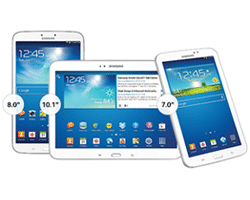 The overall tablet market in India has grown at a rapid pace over the past one year and the total recorded shipments soared to 2.66 million in 2012, a mammoth 901 per cent year-on-year growth from 2011, according to a report released by research firm IDC. However, low-cost, 7 inch tablets comprised 78 per cent of the total shipments in Q4 2012.
Although Samsung led the pack with 15.76 per cent of shipments, it was not a huge lead and Micromax came a close second with 13.33 per cent. Interestingly, Micromax entered the market only recently, in the second quarter of 2012, and still managed to grab a leadership position due to the growing popularity of its low-cost devices. Apple had 9.92 per cent market share while HCL and Karbonn had 7.05 per cent and 6.17 per cent, respectively.
Increasing Chinese imports and local vendors' offerings together comprise about 70 per cent of the total tablet market in India, according to the report. "Most of these local vendors operate on a 'fly by night' model, wherein they flood the market with low-cost tablets and vanish within 2-3 quarters," the report stated.
As per quarter-wise break-up, Q1 2012 saw 0.1 million shipments, which rose to 0.34 million in Q2, and Q3 saw a huge jump to around 1 million. In the last quarter, the number reached 1.19 million shipments. According to the report, the market is expected to see 6 million shipments in 2013.
Another study, released by CyberMedia Research, recorded shipments of 3.1 million units in 2012. It also cited Samsung as the market leader with 25.1 per cent of the total shipments.
(Edited by Sanghamitra Mandal)
---