Amazon.in, the marketplace launched in India by Amazon Seller Services Pvt Ltd, part of the world's largest e-commerce firm Amazon.com, has added three new categories to its offerings – mobiles and accessories, cameras & photography, and portable media players. It is currently offering more than 20,000 electronics products from 200 brands. Earlier this month, the marketplace kicked off with just two categories – books and movies & TV shows.
Commenting on the development, Amit Agarwal, vice-president and country manager of Amazon India, said, "Customers have been asking us to bring the Amazon experience to electronic products in India. We are excited to open our marketplace to sellers in these popular categories."
Last we checked the site, it was offering a range of new products including mobile phones, tablets, digital cameras, camcorders, MP3 players, headsets, cases and covers, camera bags and tripods from brands like Nokia, HTC, Micromax, BlackBerry, Samsung, Sennheiser, Panasonic, Sony, Canon and Nikon.
The company claims to have more than 150 electronics retailers on the site. Among these, stores like Croma, Vijay Sales, UniverCell, Saholic and J.J. Mehta & Sons are usingAmazon's fulfilment service. Note that as a limited period launch promotion, customers will enjoy free delivery with no minimum order value on all orders fulfilled by Amazon. Its services include cash on delivery (COD), delivery tracking to the doorstep and free-of-cost pick-up for goods returned.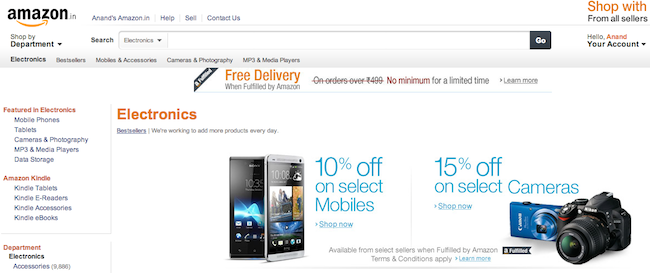 There will be 10 per cent discount on selected mobile phones and 15 per cent off on cameras as an introductory offer. With the latest inclusion, there are now six categories on offer including books & e-books, movies & TV shows, the Kindle family of e-readers & Kindle Fire tablets, mobile and accesories, camera & photography and portable media players.
While there are a number of online marketplaces already offering the same products, we feel the key differentiator for Amazon would be its global customer product reviews (that have been integrated into the categories) as well as its personalised recommendations engine. This is important because customers looking to buy electronic items, cameras or mobile phones do refer to these reviews a lot before making a purchasing decision.
The company started by launching just two product sections – books and movies & TV shows. In the books' section, it is offering over 7 million printed books across 200-plus categories. Amazon followed it up by officially launching its Kindle tablets and e-book readers in India (note that the e-book readers were already available in a number of offline stores). The devices launched in the country include Kindle, Kindle Paperwhite (both e-book readers), as well as Kindle Fire HD 7 and Kindle Fire HD 8.9 tablets.
While the Kindle e-reader is now available for purchase, the other three devices will be available from June 27. These are priced at Rs 5,999 (Kindle), Rs 10,999 (Kindle Paperwhite Wi-Fi only), Rs 13,999 (Kindle Paperwhite Wi-Fi+3G), Rs 15,999 (Kindle Fire HD 7 16 GB) and Rs 21,999 (Kindle Fire HD 8.9 16 GB). The site is also offering free e-books for a span of two weeks to its Indian users.
(Edited by Sanghamitra Mandal)
---