India's largest consumer e-commerce venture Flipkart was valued at $1.04 billion in its last round of funding around a year ago, as per a disclosure by one of its new investors. South Africa's digital media giant Naspers disclosed in its annual report to shareholders that it had invested R848 million (around Rs 581 crore or a little over $100 million back then) in August 2012 to pick up 10 per cent stake in Flipkart Pvt Ltd.
Techcircle.in had first reported that Flipkart was negotiating with General Atlantic for fresh PE funding worth $150 million in 2011, at a billion-dollar valuation. But the negotiations with the PE firm did not fructify.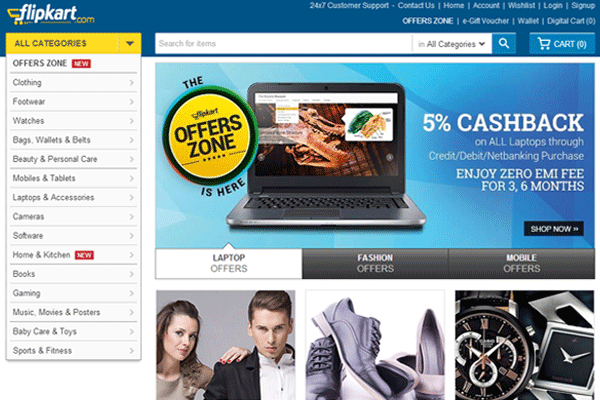 Last August, the firm said that a group of investors including Naspers and ICONIQ Capital, besides existing investors Tiger Global and Accel Partners, participated in a Series D round. It, however, did not disclose the funding amount.
Naspers did not share further details but Flipkart Pvt Ltd, a Singapore-incorporated entity, is now the key holding arm for Flipkart's business in India, sources told Techcircle.in. In India, Flipkart operates under a string of companies including Flipkart India Pvt Ltd, the key operational firm, and WS Retail. The latter operates the site Flipkart.com under a licence from Flipkart India, which owns the brand.
The disclosure from Naspers was first reported by MediaNama, which said Naspers invested $84.8 million.
Interestingly, the South African Rand and Indian Rupee have depreciated sharply against the US dollar over the past one year and the current dollar value of Naspers' investment is much lower than the actual investment value.
Flipkart clocked gross revenues of Rs 500 crore for the year ended March 31, 2012, a tenfold increase from Rs 50 crore in 2010-11. This means last year, Flipkart was valued at around 12x its FY12 gross merchandise value.
In the most recent transaction in the consumer internet space, Naspers struck a deal to buy Bangalore-based redBus.in, a bus ticketing site. Although the deal value was not disclosed, it is rumoured to be anywhere between $100 million and $140 million. redBus is said to have generated business worth Rs 600 crore or so (around $100 million, given latest forex rates) in FY13, which means it was valued around 1x-1.4x its gross revenue. Its net revenue, which is the actual revenue earned by the firm from commission, would be much lower.
Naspers has been actively building its India portfolio over the past few years. The firm has an existing business with the ibiboGroup, but has not shied away from making competing investments. Earlier, it invested in BuyThePrice, another online marketplace which was later acquired and merged with Tradus, a part of the ibiboGroup.
Flipkart, which started with an inventory-led e-commerce model, has recently integrated a marketplace with its platform, allowing other vendors to list their products on its site. The firm, which has scaled down some of its verticals including electronics and the digital music store, is estimated to have generated Rs 2,000 crore in gross merchandise value for the year ended March 31, 2013. It is said to be mulling an overseas listing in the medium term.
(Edited by Sanghamitra Mandal)
---