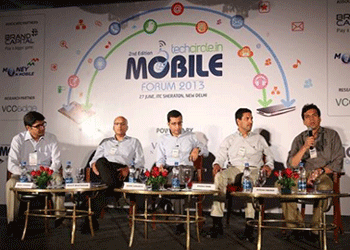 With close to billion subscribers, mobile is one of the biggest opportunities for tech entrepreneurs in India. But it is yet to make it big as a medium for transaction. Ventures in this space often struggle with key challenges such as monetising through apps/services, resolving mobile payment issues and making mobile ads really tick. The second edition of Techcircle Mobile Forum 2013, held in Delhi on June 27, discussed such pertinent questions and brought forth various suggestions that provided deep insights into the upcoming industry. Over 150 people, including heads of leading mobile solutions/services companies, venture capitalists and private equity investors, attended the event and industry experts unanimously agreed that mobile is the future, both globally and here in India. Here are the five key takeaways from what speakers like Mohit Bhatnagar (MD, Sequoia Capital), Hitesh Oberoi (MD & CEO of Info Edge), Amit Somani (chief products officer of MakeMyTrip.com) and Dippak Khurana (co-founder & CEO of Vserv) and many more shared at the event.
Get users to spend time on apps, monetisation will follow
The keynote session of Techcircle Mobile Forum 2013 comprised industry experts like Hitesh Oberoi, MD & CEO of Info Edge; Madhu Nori, head of operations at Bharti SoftBank (BSB); Mohit Bhatnagar, MD of Sequoia Capital; Badri Sanjeevi, CFO of People Group and Rahul Chandra, MD of Helion Ventures. The panel discussed mobile as a business opportunity and how it has been growing.
Giving an insight into how the medium has been growing in terms of business, Hitesh Oberoi of Info Edge noted that about 60 per cent of the queries on Zomato and 30 per cent of the queries on Naukri.com come via mobile. He also added that mobile-only users have also been growing at a fast pace. Still, it is a nascent market in India and the focus on mobile is yet to pick up. Nori of BSB was of the same opinion and added that internet companies would have to start thinking mobile-first. "Mobile is the future and the only future. There is no denying that," he said.
Badri Sanjeevi of People Group noted that companies or people, who focus on engagement via mobile and try to monetise the same, will do better in the long run. "We should not build apps or mobile businesses with an aim to make quick money – that approach is not right," he said.
Oberoi agreed and stated that one should build apps to solve problems that could be tackled well on the mobile space. "It can be localised services, recommendations, etc. We don't use a PC to access such information and that can be a great opportunity," he observed.
Getting the product right is most critical, according to Nori. Moreover, information fragmentation is so high in India that each segment could offer some business opportunity, he said.
M-commerce is growing, but still has a long way to go
After e-commerce, mobile retail is the next logical thing. But in a country where the majority of transactions done online are paid via COD (cash on delivery), how is mobile faring as a transaction medium? Experts at the forum discussed how the medium is growing in terms of user engagement and it would finally translate to actual transactions.
Ankit Khanna, vice-president (product) at Snapdeal.com, said that the majority of the firm's traffic is coming from mobile. As for highest conversion rate (where actual purchases happen), that comes from users who check out the portal both on the web and via mobile, he added. "However, we have also observed that some categories attract more buyers via mobile. For example, 30 per cent of our watch sales come from mobile alone," he said.
Others participating in the discussion were also optimistic about mobile taking over as a serious player for commerce. Amit Somani, chief products officer of the leading OTA MakeMyTrip.com, stated that for the first time this year, MMT has a revenue plan for mobile as well. "We definitely believe that the next 100 million users will come from mobile and not necessarily from smartphones," he said. Ratul Ghosh, strategy head of eBay India, echoed similar views. Although eBay has taken more advanced initiatives in foreign markets to leverage the mobile space, in India, it is now focusing on mobile-assisted commerce, he shared.
Micro payments have enormous opportunity but need a lot of work
Mobile is often considered the right medium for micro payments as small purchases are mostly made via handsets. But some experts are of the opinion that mobile payments are not that popular with consumers and secondly, there are a lot of restrictions on micro payments. "RBI has a transaction cap, which can pull back customers from mobile payments," said Sunil Kulkarni, deputy managing director of Oxigen Services.
Shashank Joshi, MD of My Mobile Payments, opined that moving consumers from cash to electronics is, indeed, a challenge. "India has less plastic money users. Even fewer people use mobile apps and only a very few happen to be mobile wallet users. Moreover, India poses a lot of regulatory restrictions. So it all boils down to what value proposition is offered to consumers to switch to mobile payments," he said.
But it is not only about regulations & restrictions, but also about mindset. Although mobile payments are as secure as other modes and can have a broader reach, people are yet to accept it as a mode of payment, feel experts.
Mobile as an advertising medium not yet explored
The mobile ecosystem has outpaced the internet in terms of reach and popularity. "It took 13 years to get an internet user base of 100 million while it took only half the time for the same kind of growth as far as mobile users are concerned," said Dippak Khurana, co-founder & CEO of Vserv.
Although mobile is the next big thing, there are considerable challenges in the mobile ad space, such as brand-adaptive screen & format and other innovative formats. For advertisers, it is important to target micro-innovations. Broad offerings are not enough in this space and those focusing on micro-innovations (to reach target audience), will stand tall in the market, the panel said.
Also, the mobile user base is quite broad and not restricted to a specific operating system. Consequently, an advertiser should target all the platforms. Plus, one can experiment with video, voice and interactive ads. Upen Rai of Fork Media said that different formats of advertising within the mobile screen are currently gaining traction.
Industry experts also reckoned that till date, not even a fraction of mobile's potential as an advertising medium has been exploited. The kind of reach that mobile has is more than any other medium. And the market is open for localised, customised, targeted advertisements. A mobile phone captures a lot of data regarding consumer behaviour and using that, advertisers can create the right kind marketing campaigns that will ensure much higher ROI.
One-size-fits-all won't work in mobile apps
Developing a useful app and making users stick to it is, again, a tough task. An app may have 1 million downloads, but at the end of the day, the usage can be only 50 per cent or so. The panel discussion titled 'Insights on discovery, business & economics of mobile apps' brought forth a lot of interesting points in this regard. According to Bhavish Aggarwal, co-founder of Olacabs, different strategies will work for different products/companies. For instance, Android has the largest market share in India but Olacabs' app was first launched on the iOS and has garnered more revenues than its Android app.
The panel unanimously agreed that simplicity of the app matters most if one is looking for repeat customers. The simpler the app, the bigger the number of active users. But the cheat code to succeed and create loyalty is listening to the customer feedback and acting on the same at the earliest.
The panel came up with another crucial point – whether a push strategy works better or a pull strategy in terms of offers, deals and news regarding the product/service. Amit Somani of MakeMyTrip said push notifications could be a dangerous line. It could irritate a customer and result into app uninstallation as well. If at all offers are pushed, they have to be genuine and good enough for users to get perturbed by such notifications, added Somani.
(Edited by Sanghamitra Mandal)
---