While many among us aspire to become entrepreneurs, a few actually have the heart to leave their comfortable jobs and take the plunge. That, actually, is the easy part; what follows is a long road of hardships and challenges that entrepreneurs have to cross to add that elusive 'successful' tag before their designations. And while several platforms offer you a chance to meet those who have already savoured entrepreneurial success and learn from them, no one has ever provided what is on offer at the fourth edition of the India Angel Summit 2013, to be held on July 17 and 18 at The Lalit, Mumbai—for the first time in the history of such events in India, the 'lucky' participants will be taken to the 'offices' of India's six top venture capital funds and innovative companies in Mumbai for interactive workshops, as part of Startup Walkabout, a unique initiative by VCCircle.
This will allow the participants to meet the teams and interact with them, in addition to seeing how the companies function in real life. These workshops will deliver insights on some of the most pertinent areas driving a company's growth and also allow the participants to get to know what goes around in the minds of the top VCs in the country. What more can one ask for?
Here is a quick look at the VCs and firms whose offices we will be covering as part of the Startup Walkabout.
Sequoia Capital
Venture capital fund Sequoia Capital is a household name among entrepreneurs in India and abroad. The firm has invested in a number of high-profile global firms such as Google, Apple and LinkedIn as well as India's leading local search company Just Dial that recently completed its IPO. The VC fund, or 'the entrepreneurs behind the entrepreneurs', as the firm likes to call itself, invests in all stages of a company's lifecycle—seed, early, venture and growth stages—in sectors such as Internet, mobile, technology, financial services and healthcare services.
"Market leaders are being established and the Indian e-com space will see a lot of shutdowns and consolidation in the coming times," says Mohit Bhatnagar, MD, Sequoia Capital India.
Komli Media
The company offers solutions across display, mobile, video, social, search and data for advertisers, agencies and publishers. Headquartered in Mumbai, it has over 400 employees across offices in India, Australia, New Zealand, Hong Kong, Southeast Asia, Middle East and North America. It raised $39 million in its fourth round of funding in June 2012, taking the total funds it raised to $62 million.
"Consumer behaviour is changing across desktop, mobile, social and video in the Asia-Pacific markets," says Prashant Mehta, CEO, Komli Media.
Nexus Venture Partners 
A leading venture capital fund in India, Nexus needs no introduction. Comprising a team of successful entrepreneurs with extensive investing and operating experience, the fund primarily invests in early and early growth stage companies across sectors in India as well as the US. In 2013 alone, the fund invested in a number of companies including online marketplace ShopClues.com, cloud startup Armor5; software developer ScaleArc; cloud storage firm CloudByte; map-based real estate search portal Housing.co.in; and SaaS-based order management and fulfilment platform Unicommerce.
"At least a dozen of billion-dollar technology companies will come out of India going forward," says Suvir Sujan, co-founder of Nexus Venture Partners.
Quikr
Online classifieds player Quikr offers free ad listings in more than 90 cities and claims to have over 26 million visitors a month. It has raised $32 million in its fifth, and also its largest round of funding, taking the total amount of funds raised to $50 million (close to Rs 260 crore) and becoming one of the heavily funded consumer Internet firms in India.
"First of all, we are quicker. So it's difficult to compete with our pace," says Pranay Chulet, founder and CEO of Quikr.com.
Orios Venture Partners
Led by serial angel investor Rehan Yar Khan, Orios Venture Partners is a seed fund that typically invests up to $750k in technology-enabled startups in mid/late market testing and growth/expansion stages. The fund has a combined portfolio of 20 seed investments, including Druva, Olacabs, Reach Accountant, Sapience, Pretty Secrets and Jigsee, and claims that 100 per cent of its portfolio companies have gone on to raise further funding.
"Strangely in India, the industry developed in the reverse (direction). There were a lot of PEs, fewer VCs and even less seed funds, making it a very odd-shaped pipeline," says Rehan Yar Khan, general partner, Orios Venture Partners.
Olacabs
Fuelled with over $5 million in Series A funding from Tiger Global (in addition to an undisclosed angel round earlier), online marketplace for cabs and car rental services Olacabs has expanded its offering to over 4,000 cars (in a number of categories) and is currently working with more than 1,500 operators. While the company started out with Mumbai, it has now expanded its services to Bangalore, Delhi-NCR and Pune, with plans to add even more cities this year.
"We are leveraging online and offline models for car rentals in India," says Bhavish Aggarwal, co-founder, Olacabs.
Also, here is a map for the Startup Walkabout. Click on it for a larger view.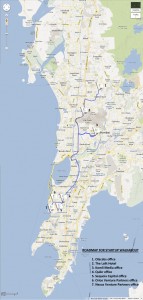 Note that in its new avatar, India Angel Summit is now a two-day initiative. The second day will be loaded with exciting keynotes, debates and special sessions involving more than 25 speakers, including top entrepreneurs, early VCs and angel investors, hosting topics such as: scaling a startup to a world class company; tackling the scarcity of Series A; bootstrapping versus venture funding; preparing your company for funding; secrets of lean marketing, and more. The summit will also host two special sessions—Pitch-10 and Co-Founder Hunt. So don't miss it.
Pitch-10: 10 selected companies will present their products, market opportunities, and how they plan to outpace competition. They will also talk about their business models, along with a step-by-step strategy to generate revenues and disrupt the existing markets. Live feedback and Q&A with a panel of jury members will follow. Each presenter will be given five minutes on stage. Click here to fill the Pitch-10 application form.
For registrations and pitch session details, write to kanika@vccircle.com or call 0120-4171111
For sponsorship, write to vijay@vccircle.com
For suggesting agenda/nominating speakers, write to ben@vccircle.com.
---