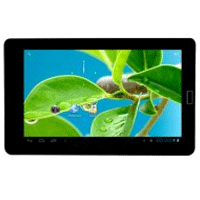 After the flop show called the Aakash tablet, the Department of Electronics and Information Technology is once again trying to come up with a new device. The device will be called Aakash 4 and the department has already revealed a list of proposed specifications. In addition, the government has asked for comments on the specs (learning from our mistakes, are we?), which can be sent to Rajat Moona, director general of Centre for Development of Advanced Computing (C-DAC), either by calling 020-25696565 or sending e-mail to moona@cdac.in or bkm@cdac.in. Note that the suggestions have to be sent in by July 12, 2013, post which we expect to see the final specs of the device.
Here is a quick look at the proposed specs including the minimum hardware and software, as well as mechanical and environmental specs, among others.
Aakash 4 will have a 7 inch LCD multi-point capacitive touchscreen display with at least 800x480 pixel resolution and 16 bit or higher colour depth. The device will run on the latest versions of Android and Linux (basically dual-bootable) operating systems. The Linux OS will also be touch-optimised. The new device promises at least 1 GB of DDR3 SDRAM. It should have 4 GB of integrated flash storage and the internal memory can be expanded up to 32 GB with the help of a microSD card.
The new tablet will also have (at least) a 0.3 megapixel front-facing camera that can record videos as well. On the connectivity front, the device should have Wi-Fi, Bluetooth, a USB port and one USB On The Go (OTG) which can support USB drive, keyboard, mouse and USB printer, among others. The tablet should also support 2G, 3G and 4G dongles for faster internet connectivity. Note that as of now, only Airtel provides 4G services in the country and that, too, in only four locations (Bangalore, Kolkata, Pune and Chandigarh). Reliance is also planning to launch its 4G services by the middle of next year.
The tablet won't be bigger than 190.5 mm x 127 mm x 19 mm (standard tab size) and should not weigh more than 500 gm. Aakash 4 will offer minimum three hours of battery life for high definition (720p) video playback and should charge 10-80 per cent in two hours.
To refresh your memories, Aakash is a series of 7 inch Android tablets and essentially an initiative of the Ministry of Human Resource Development, Government of India. These are low-cost tablets, developed to link 25,000 colleges and 400 universities in an e-learning programme. The cost of the basic version for a student is only Rs 1,500, making it the cheapest tablet in the world.
It was officially launched on October 5, 2011, (read here for more on that) and flopped soon after. The ministry announced an upgraded second-generation model called Aakash 2 in April 2012, which also failed to impress.
While all earlier attempts by the Indian government to make a revolutionary device have failed miserably, do you think it will be different this time? Share your comments below.
(Edited by Sanghamitra Mandal)
---