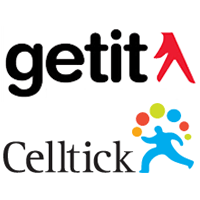 Local search and classified services provider Getit Infomedia Pvt Ltd has partnered with Celltick, a mobile marketing network, wherein Celltick's customers will be able to access location-specific offers from Getit's deals website, Getit Hotdeals through their mobile phones.
"Being at the forefront of customer service innovation, we understand our users. Therefore, we present an exciting and unique way to get deals on their mobile screens," said Jaspreet Bindra, CEO of Getit Infomedia.
The service will be available on Android, Blackberry and Windows. The offering is an extension of Celltick's flagship product LiveScreen, which publishes content directly to the consumer's mobile home screen when the phone is in an idle mode. The user will receive flash messages of local deals on his/her mobiles phone and after selecting the preferred deal, he/she will get a deal code via SMS on the mobile.
Local coupons will be published through Celltick's platform by integrating with the 'real time coupon server', the company's patented technology that detects the current location of the user and generate location-specific deals on his/her mobile. As of now, deals will be available across 65 cities in India, as per a company statement. The partnership may help advertisers enhance their business by providing and promoting hyper-local deals. Getit Hotdeals has partnerships with around 6,000 merchants across India.
"We are committed to enabling and evolving mobile couponing to be a part of the consumer's everyday life, and allowing brands to bridge into an untapped opportunity of high growth markets," said Ramgopal Vidyanand, vice president, marketing and business development, Celltick.
Headquartered in Israel, Celltick has subsidiaries in the UK, Russia, Brazil, Singapore and India. To date, it has reached 140 million active consumers in about 25 countries. Celltick works with major mobile operators such as Vodafone, Airtel, Idea and Reliance in India. The company expanded its Indian subsidiary to meet the growing demand for LiveScreen in 2011.
Getit launched Getit Hotdeals in November 2011; users can access the offering either through the company's deals Website or by calling its call centre. Recently, Getit added a monetisation channel with the launch of its online marketplace Getit Bazaar. The firm has already roped in around 6,000 merchants on the marketplace which is currently in its beta mode. The firm also received approval from the Foreign Investment Promotion Board (FIPB), the nodal government body monitoring foreign investments in India, to raise Rs 216 crore or approximately $36.4 million.
(Edited by Joby Puthuparampil Johnson)
---