Adult online lifestyle store IMbesharam.com goes live, offering around 1,000 products as of now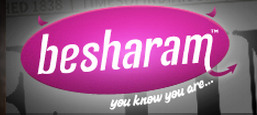 IMbesharam.com, an online one-stop shop for adult lifestyle products has gone live last weekend. The site is offering around 1,000 adult products including adult toys, energy drinks, lingerie, costumes, clubwear, fantasy wear, etc., and lifestyle accessories like sunglasses, scarves and watches. The site is powered by Canadian e-commerce solutions firm Shopify which recently launched its Indian operations formally.
The products are offered in a number of categories (which are further divided into sub-categories), including those targeted by a particular gender besides simple 'adult'. Apart from these, the site has a separate section dedicated to bachelor/bachelorette party products.

"At the moment, we have around 1,000 unique items on the site. We will be increasing this number to over 5,000 by the end of this year," said Raj Armani, co-founder, IMbesharam.com.
Mumbai and US-based Besharam CO, USA, the company that owns and operates the site, was co-founded by Armani, along with Salim and JJ (full names are not disclosed). Prior to IMbesharam, Armani worked at companies like Miami2Mumbai Inc and Supercomm LLC; he holds a bachelor's degree from Osmania University.
The venture had earlier roped in Indo-Canadian adult movie star-turned-Bollywood actress Sunny Leone, who was the most searched for person on Google last year, as the face of the brand.

According to the company, it sources products from popular brands in the US and Europe, presents them in an online store and take care of all duties, customs and taxes till the delivery reaches the customer's door. For the consumer, the pricing is in Indian currency which captures the customs duty and other taxes. The product purchases are billed under the name of Happy Birds Inc.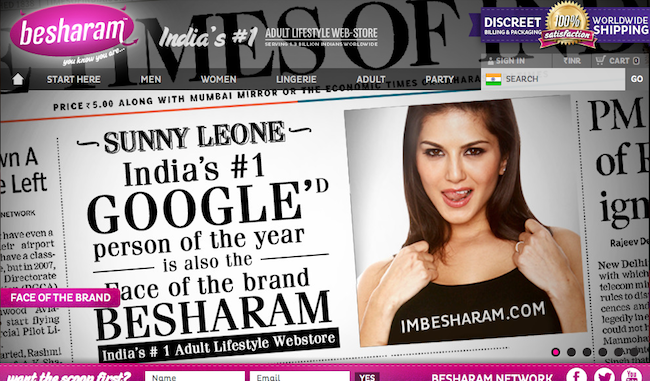 The site also has a world map indicating different countries in green, orange and red zones, depending on their flexibility to import adult products. While green stands for relaxed rules and red for strict ones, India falls under the orange category, which basically means that the country has conservative rules and an individual approach that determines import eligibility, due to unavailability of clear and transparent rules/laws.

"Most of the lingerie and adult products that we carry should have no problem in being imported, but there might be restrictions on adult toys that are either obscene looking or have graphic packaging. In such cases, we will have to replace the packaging and/or cancel the order if we foresee a risk," reads a message on the site.
There is no dearth of such e-com ventures targeted at adults. In terms of competition, a number of players has entered the online adults lifestyle products space in the recent past, including Thatspersonal.com, Buyundercover.com, and Kaamastra.com.


And while the other sites also offer a range of products, IMbesharam's catalogue is arguably the most extensive but certainly the boldest yet (so much so that we are not even sure if some of the products are allowed in the country!). This is evident from the fact that while IMbesharam has close to 1.5 lakh likes and over 2,688 people talking about it on social networking site Facebook, the next best is Buyundercover with only a little over 5,000 likes and 219 people talking about it on the site (see table for more).
Guess it's time for the competition to remove the kid gloves.
---