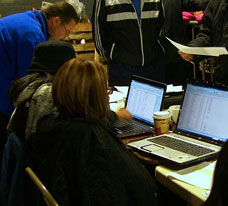 Global shipments of personal computers slumped 10.9 per cent in the second quarter, the fifth straight quarterly decline in a market that has been devastated by the popularity of tablets, research firm Gartner said on Wednesday.
Marking the longest decline in the PC industry's history, Hewlett-Packard in the June quarter lost ground to Lenovo, now the world's leading personal computer maker with a market share of 16.7 per cent.
"We are seeing the PC market reduction directly tied to the shrinking installed base of PCs, as inexpensive tablets displace the low-end machines used primarily for consumption in mature and developed markets," Gartner analyst Mikako Kitagawa said in a news release.
Also on Wednesday, research firm IDC said PC shipments dropped 11.4 per cent in the second quarter, a bit better than expected.
"With second-quarter growth so close to forecast, we are still looking for some improvement in growth during the second half of the year," analyst Jay Chou said in IDC's report.
PC makers shipped 76 million computers in the June quarter, compared with 85.3 million in the same quarter last year, Gartner said.
Lenovo shares rise 2% after overtaking HP as top PC vendor
Lenovo Group Ltd shares rose as much as 2 per cent on Thursday after major technology research firms ranked it as the world No.1 in PC shipments in the second quarter, although the PC market saw overall sales fall.
Lenovo shares were up 2.0 per cent at HK$7.04 during early trade, outperforming the main Hang Seng Index's.HSI 1.9 per cent rise.
Its PC market share rose 16.7 per cent in the second quarter, higher than Hewlett-Packard Co's 16.4 per cent and up from 15.0 per cent during the same period a year earlier, research firm IDC said.
IT research and advisory company Gartner said Lenovo reached 16.7 per cent share this quarter, higher than HP's 16.3 per cent in the three months ending June. Both firms saw global PC shipments slump 11 per cent during the same period.
---