Talk.to, a cross-platform instant messenger launched by the Directi Group, a group of businesses developing mass-market web products, will discontinue support for third-party chat from August 15, 2013 (Independence Day!). What this basically means is that you will no longer be able to use the app for accessing services like Google Talk, Facebook Chat and Windows Live Messenger. According to the company, the reason behind stopping support for other chats is that the dependence on those services made it impossible for it to guarantee a fast and reliable service.
The messenger was first launched in beta last August, and at the time, it enabled users to communicate across multiple accounts and platforms in real time.
"When we first launched Talk.to in 2012, our vision was to be the one app from where you can chat with all your friends quickly and reliably. And support for Google Talk, Facebook and Windows Live was an important part of that. However, supporting other chat services has a downside—depending on these services makes it impossible for us to guarantee a fast and reliable service," read a statement from the company.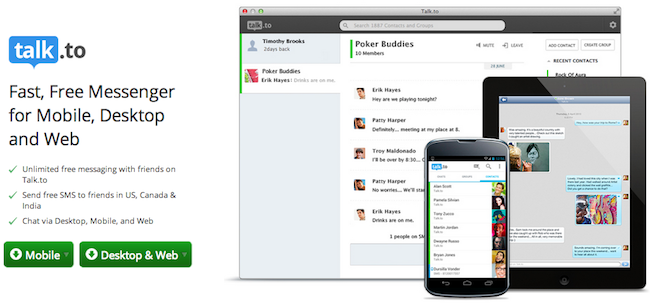 How does this affect you?
While chat and SMS messages to your Talk.to and phone book contacts will continue as before, you will no longer be able to message other users on Google Talk, Facebook Chat or Windows Live through Talk.to.
"On more than one occasion in the recent past, we have experienced downtimes due to issues with external systems. Identifying and resolving such issues takes a considerable amount of our time that could otherwise be used to build cool new features that are much more valuable to you—our users. From August 15, 2013, we will not support third-party chat (Google Talk, Facebook Chat and Windows Live Messenger) and will focus solely on creating a great chat experience for you," read the statement.
While Talk.to will no longer offer third-party chat support, users who want one app to chat on all messaging services can try out other multi-service messaging apps like Trillian, Digsby, Adium (Mac), and Pidgin (Windows/Linux).
At the time of the launch, we had asked Bhavin Turakhia, co-founder and CEO, Directi, about the uniqueness of the app, considering the real-time communication space is already overcrowded. He had mentioned, "While there are a number of clients catering to different requirements, there isn't a single platform that covers everything (SMS, IM, as well as Facebook and Google Talk, etc.)."
We wonder if the app will find any takers now, since it is no longer doing the same. Although this could also have been the game plan all along—to get in users by offering a lot, then focusing only on its own offering once the user base became large enough.
(Edited by Joby Puthuparampil Johnson)
---