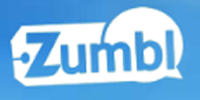 Delhi-based Zumbl Services Pvt Ltd, which provides Zumbl.com, a platform that enables members to chat with strangers having similar interests and passions, has bagged $20,000 (Rs 12 lakh) from Snapdeal co-founders Kunal Bahl and Rohit Bansal, its founder Abhishek Gupta told Techcircle.in.
Founded in 2011 by IIT Delhi students Gupta (21) and Saurabh Kumar (19), Zumbl has more than 3 million registered users across 189 countries using the platform, with the majority coming from India and the US. The firm was incubated at Digital Media Zone, Toronto. Both the founders had dropped out from their college for a semester to join the incubation in Toronto during August-November 2012. Post incubation, they returned to India to continue their education. They are still pursuing their graduation in Computer Science at IIT Delhi.
"Bahl and Bansal put in $10,000 (Rs 6 lakh) each. The money went towards hiring talent. We are now a team of eight, including the founders," Gupta said.
How Zumbl works
You need to login into Zumbl using your Google or Facebook credentials. Then add your interests, hobbies, etc in the corresponding columns. Zumbl matches you with strangers who share common interests with you. During the chat, both parties can tag each other with tags like nerdy, sassy, funny etc. As the chat goes on, Zumbl will decorate your avatar with badges to avoid profanity and reduce the number of fake profiles.
Zumbl also uses 'sentiment mining' technology to detect the mood of members from the chats and reflect the same in form of animation of their avatar. It is easy to share your interests with others, as you need to just enclose anything you wish to share in '< >'. For instance, if you enter '<wall climbing>' the phrase is indexed and the relevant media/videos from the web are shared immediately with the chatmate.
The startup has already launched the Android and iOS versions of Zumbl which together saw more than 46,000 downloads so far.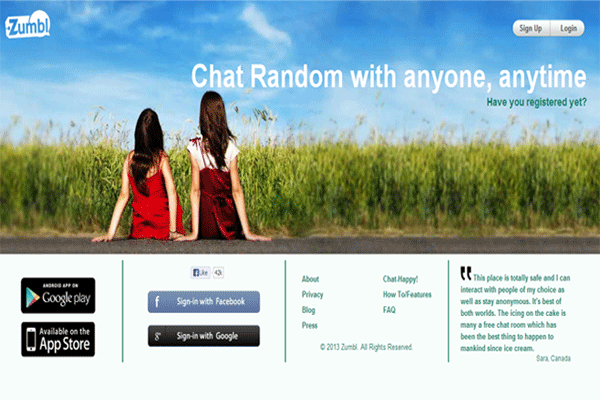 A free app, Zumbl is looking to build a good user base for its app platforms before launching revenue models. "We are aggressively focusing on growth. We are doing targeted marketing for our first tier of countries that include India, the Philippines, the US and Canada. Rest of the countries are targeted effectively through our SEO and SEM," Gupta said.
As part of the incubation at Digital Media Zone, the firm received $20,000 (Rs 12 lakh). It also bagged $3,000 (Rs 1.7 lakh) after winning the Samsung Innovation Award 2012.
Although Zumbl offers a different user experience compared with other chat platforms, it is still competing with WhatsApp and WeChat, two of the leading chat apps. WhatsApp has already registered 100-500 million downloads, while WeChat saw 10-50 million downloads so far.
(Edited by Joby Puthuparampil Johnson)
---