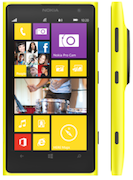 Finnish handset giant Nokia has finally taken the wraps of its next flagship Lumia device, which comes with the tagline 'Nothing gets this close', hinting at the camera quality. The smartphone, called Lumia 1020, runs on the Windows Phone 8 operating system and sports a mammoth 41 mega pixel rear camera. While this would have amazed us, but if you remember, the company had earlier launched Nokia 808 PureView that also came with an unheard of (at least at the time) 41MP camera.
Here is a look at the specifications of the device.
The smartphone has a 4.5 inch ClearBlack AMOLED WXGA touchscreen display (1280×768 pixel resolution) with 334 ppi pixel density and runs on the Windows Phone 8 operating system. It is powered by a 1.5 GHz Qualcomm Snapdragon S4 dual core processor, and has 2 GB of RAM. The internal memory of the device is 32GB, along with 7GB of additional SkyDrive cloud storage from the company.
On the camera front, which is basically what this smartphone is all about, the device has an 41 mega pixel auto-focus rear camera (with optical image stabilisation) that can record full high-definition videos (1080 pixels) at 30 frames per second and a 1.2 MP wide-angle front-facing camera that can also record HD (720p) videos. The rear camera has a backside-illuminated image sensor, 6-lens optics, and a Xenon Flash for image capture and video light for video recording. The main camera has a Carl Zeiss Tessar lens and with f/2.2 aperture.
There are a number of white balance modes (cloudy, fluorescent, incandescent, automatic, daylight) and scene modes (automatic, night portrait, sports, night, close-up, backlight), and the video recording function also has stereo audio recording and continuous autofocus. At 41MP, the camera in this device is arguably the best one available in any smartphone in the market as of now, much better than the 8MP camera in the iPhone 5 and even better that Samsung Galaxy S4 Zoom's 16MP rear camera.
On the connectivity front, the device comes with Bluetooth 3.0, Wi-Fi, 3G and 4G (depending on the region), and it also has a microUSB port. The device measures 130.4 mm x 71.4 mm x 10.4 mm and weighs 158 gm. It has a 2,000 mAh non-removable battery that the company claims will provide over 19 hours of talk time and 63 hours of music playback. The device comes with Nokia HERE maps (for navigation), A-GPS and Near Field Communication (NFC). It will be available in black, white, red and yellow colours.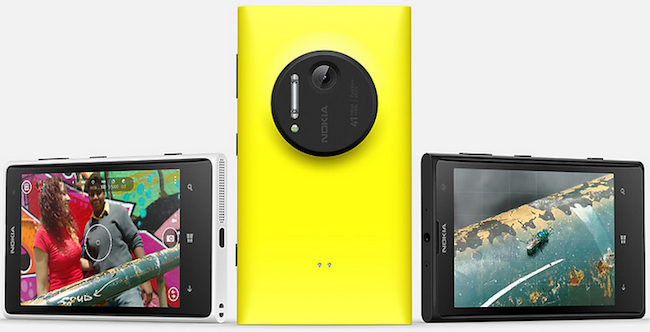 In addition, since it is primarily a camera-focused smartphone, the company has provided a number of photography apps:
Nokia Pro Camera: While the camera works in auto mode, users can also take full manual control over exposure, shutter speed, ISO, white balance and focus, just like on an Digital SLR camera. The different framing grids available in the camera allow users to frame their shot, and if they did not get the shot completely straight, they can also straighten and crop it afterwards.
Panorama: Allows users to click pictures and then the app automatically stitches them into a panorama view. Users can also share their panoramas directly to social networking sites like Twitter and Facebook.
Creative Studio: Its photo editing tools let users adjust color balance, remove red eye and apply filters.
Nokia Smart Camera: Shoots a sequence of photos, so that users can choose their best shot or combine the photos into one picture, making an effect to emphasise motion.
Nokia Glam Me Lens: A leading face beautification app for Windows Phones, Glam Me automatically enhances the users self-portraits with toning, eye resizing, teeth whitening, among other effects.
PhotoBeamer: Point your Nokia Lumia at any screen displaying www.photobeamer.com and view your photos on those screens- kind of like a mobile projector that's always at hand.
Cinemagraph: A blend of photo and movie-like animation that creates pictures that seem almost alive (at least that is what the company claims). On-screen assistance lets users select the animated area of their picture and create and edit a cinemagraph.
While the smartphone is set to launch in the US on July 26 2013, followed by China and key European markets this quarter, an India launch date and pricing for the smartphone is not available as of now.
Additional accessories
Apart from the wireless charging cover, the smartphone also comes with a Nokia Camera Grip', which is an interesting piece of accessory. Designed to fit the Nokia Lumia 1020, the grip makes it easier for users to click pictures or record videos, especially single-handed. The grip can also be attached to any standard camera tripod, allowing users to set up long-exposure shots or steady videos.

In addition, the grip also comes with a built-in, 1,020 mAh rechargeable battery (with a power level indicator) that the company claims will provide up to 55 minutes of additional shoot time. The dimensions of Nokia Camera Grip are 145 mm x 74.6 mm x 27.2 mm.
The smartphone does pack a decent mix of specifications, but its pricing will be crucial for its success in the Indian market. And although Nokia has been doing well in the low-price mobile phone segment, it has failed to capture the attention of customers when it comes to high-end smartphones. We wonder if it is time for the company to ditch Microsoft's Windows operating system, since it has not seen many takers, and look elsewhere (meaning Android). While the Nokia 808 PureView did not do so well even with its 41MP camera, can the company be second time lucky?
---