US-based TrustRadius Inc, which owns and runs TrustRadius.com, an online platform for enterprise software review, has secured Series A funding of $5 million from Mayfield Fund to scale its operations. The company was started in June 2012 by the Indian entrepreneur Vinay Bhagat (CEO), along with Dave Hart (CTO).
As part of the investment, Rajeev Batra, partner of Mayfield Fund, will join the board of the company.
The funds will be used to expand the company's operations, hire talent, increase membership, expand its base of reviews and other content, and develop new features, as per a company statement. It also claims that US businesses spend nearly $3.8 trillion annually on enterprise technology and services, and it is targeting that market.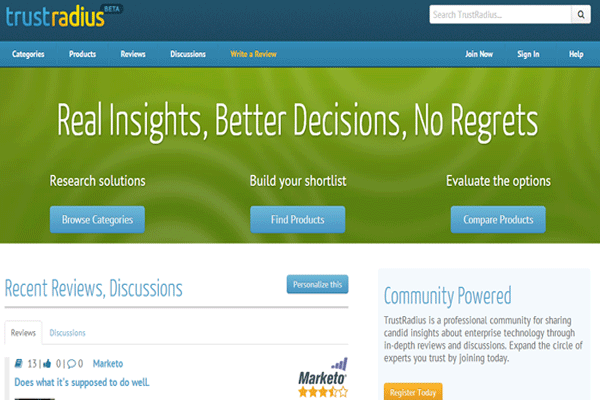 "We are excited to partner with Vinay and his team to help address this simple but very fundamental need. Software, Big Data and content are already transforming the marketing landscape and enabling a new generation of marketers to connect with their consumers in an authentic and highly personal manner. Now TrustRadius is emerging as the definitive community that will disrupt how businesses buy enterprise software and IT products," said Mayfield's Batra.
TrustRadius features crowd-sourced feedback from professionals to guide technology buyers in selecting business software. One can compare it with the likes of TripAdvisor that enables users to get first-hand opinions from other people like themselves. Reviewers on TrustRadius range from front-line and mid-level managers to C-suite executives across all types of organisations – from startups to industry giants such as Dell and American Red Cross, according to the company's official blog.
To post a review, a user has to go through an online interview with up to 40 questions. The company claims that 75 per cent of the reviews are long-form (an average of 650 words) with detailed feedback on support, training, usability, system performance, ease of implementation and more, and every review is checked by a TrustRadius analyst before it is published.
There are similar players in the market though, including VendorStack, BestVendor and G2 Crowd, among others. Prior to TrustRadius, Bhagat founded Convio, which provided customised internet marketing and enterprise management applications to non-profit organisations. Hart served as the CTO in that organisation. The company went public in 2010 and was acquired last year for $325 million.
Mayfield is an early-stage global venture capital firm with over $3 billion under management. The firm is currently deploying Mayfield XIV, a $365 million US fund, and Mayfield India I, a $110 million India-dedicated fund. It has also partnered with GSR Ventures to invest in China. Till date, the firm has invested in around 500 companies, 111 of which have gone public and over 150 have been merged or acquired. Its key portfolio companies include NASDAQ-listed Marketo, and Solarcity, as well as Zenprise (acquired by Citrix), StorSimple (acquired by Microsoft), QuickOffice (acquired by Google), RedBeacon (acquired by Home Depot) and Wichorus (acquired by Tellabs), among others.
(Edited by Sanghamitra Mandal)
---