Bangalore-headquartered WebMobi is a cloud-based software as a service (SaaS) provider that offers a mobile application creation and engagement platform for businesses. The platform enables rapid application creation for small and medium businesses (SMBs) based on pre-built app templates. Once the mobile app is created and submitted to the app store, business-to-business (B2B) customers can engage with their clients effectively with the company's engagement solution. The startup was one of the companies that were showcased at the Techcircle Demo India event.
"Mobility is a huge enabler for businesses especially in the Indian market, which has mobile first customers. With smartphones and data plans becoming more affordable and around 100 million smartphones by end of 2013, this category will be a huge enabler for business' next phase of growth," said Sachin Anand, founder, WebMobi. "Our mission is to enable cost effective mobile apps for every business, as well as provide engagement tools to reach the right customer at the right context with the right engagement—enabling better monetisation and more sales," he said.
Founded by Anand in 2011, the company had its initial beta launch in early 2012. Prior to WebMobi, he worked at companies like Sony Ericsson, Palgloo (a mobile social networking startup), Motorola, Bear Stearns & Co, and Hughes Software. Anand holds a B.Tech degree in electrical engineering from IIT Kanpur and an MBA in general management from Olin Business School at Washington University in St. Louis (US). While the company is headquartered in Bangalore, it also has an office in the US. The team size is 10.
The company enables rapid application creation across devices and platforms, with mobile engagement via location-based marketing, rich analytics, as well as building rich customer profiles to do one-to-one targeting for customers. For example, one can send a targeted push message to a customer who is close to the restaurant or retail location by giving him/her an offer that makes him/her to visit the restaurant or offline retail location.
According to Anand, the end-to-end platform capability for Mobile Relationship Management (MRM) enables SMEs to have the same capability at a price that is far lower than what's charged for the same solution. The company's offering is targeted towards events, hospitality, retail and education sectors.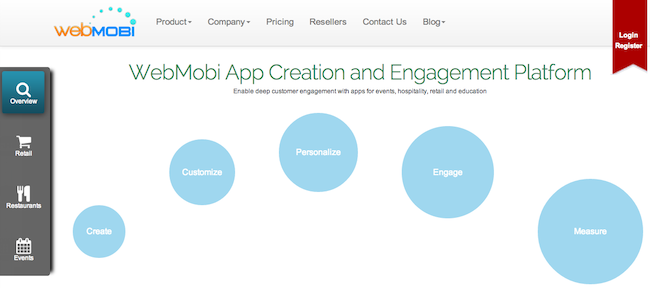 Revenue generation, customers and competition 
For revenues, the company has a SaaS-based subscription model. It offers four subscription packages as of now, starting with a free starter pack, a bronze pack for $25 (Rs 1,500), a silver pack for $45 (Rs 2,670) and an all inclusive gold pack for $75 (Rs 4,500). It may be noted that all prices are for monthly subscriptions only.
The company claims to have around 3,500 customers, a majority of which are free ones. Its clientele includes companies like Zipdial, Polycom, Revchem Composites, Uhaps.com, Indiareseller.com and VioletBag.com. According to Anand, over 2,000 apps have already been created using the company's platform.
In terms of competition, a number of players such as Shoutem and DoubleDutch offer mobile app development, although Anand claims that while other players primarily focus on developers, WebMobi focuses on non-developers with its offering.
What's in store?
As of now, the primary challenge faced by the startup is in terms of its distribution channel. "A majority of the businesses want a face-to-face meeting (which is kind of a norm in this sector) before availing our services. But since that is not possible, we are looking at resellers who can do these meetings," said Anand. The company has already signed up 10 resellers as part of its reseller programme as of now and will look to add a lot more both in India as well as abroad.
The company will look to increase the team size to 25 by the end of this year and is also looking to raise $1,00,000 to $1,50,000 in funding to further grow the business. "We don't need a lot of funding because of our business model. We are already in talks with investors for funding, but since most of them are Indian investors, they need more proof of performance before the investment is done." he said.
---