Mumbai-based Ant Farm, a startup platform set up by former Indiatimes CEO Rishi Khiani, has rolled out its second venture Arrive in closed beta. Ant Farm's maiden venture Fork Media, an advertising related startup, went live in April this year.
Arrive is a travel-related venture wherein travellers can connect for sharing their travel experiences, photos, tips, recommendations, reviews, etc. It was founded by Raj Datwani (CEO) and Nick Lapsworth (CMO). Datwani has earlier founded Singapore-based Bacchanalia Pte Ltd and Lapsworth was senior marketing manager, American Express prior to starting Arrive.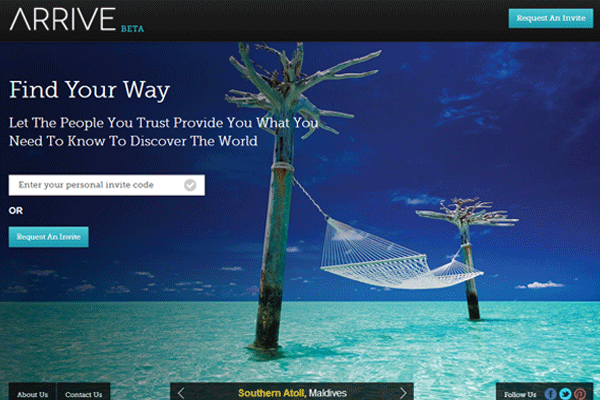 Talking to Techcircle.in Rishi Khiani shared that the travel-related startup will start its operations first in Singapore, then add Hong Kong before reaching India in a couple of months. "In the next two weeks, we will go live in Singapore," he said. He also shared more about the venture stating that it is basically a travel check-in feature.
"It is a recommendation platform plus an app. On the platform we will list places to travel, recommendations, things to do, etc and the app will sync all that information to the users' phone," he said.
Khiani said it is a travel discovery site which will have content from partners (probably OTAs) and user-generated recommendations. And with the app, users will be able to check in to the places, get points, deals, offers which they can redeem at local restaurants, places and more.
Set up in November last year, Ant Farm is kind of a hybrid startup platform that brings together people, helps in ideation or scaling up an existing idea and sees through its execution. Ant Farm is currently incubating five ventures – Stylista, Arrive, Social Plug, Teach Cast and Fork Media.
Of these, Fork Media was launched earlier this year and Arrive has gone live now. The next one to go live of the lot is Stylista. Khiani said Stylista will be a platform for Indian fashion designers to reach out to a new set of audience.
"At Stylista, we will co-create with the leading Indian designers and create looks from their designs for people who are willing to shell some extra money for designer merchandise. The collections will be priced lower than what they actually cost and slightly higher than what people are already paying for high-end brands," Khiani said. Stylista will go live in middle August, he added.
(Edited by Joby Puthuparampil Johnson)
---