We begin the live coverage of Startup Walkabout, a unique initiative by VCCircle as part of the India Angel Summit 2013. As we reach the Olacabs office, which happens to be the first location of Startup Walkabout, it is already flooding with enthusiastic participants who cant wait for the interaction / tour to start.
For those who don't already know about Startup Walkabout, for the first time in the history of such events in India, a number of 'lucky' participants are being taken to the 'offices' of India's six top venture capital funds and innovative companies in Mumbai for interactive workshops. This will allow the participants to meet the teams and interact with them, in addition to seeing how the companies function in real life. These workshops will deliver insights on some of the most pertinent areas driving a company's growth and also allow the participants to get to know what goes around in the minds of the top VCs in the country. What more can one ask for?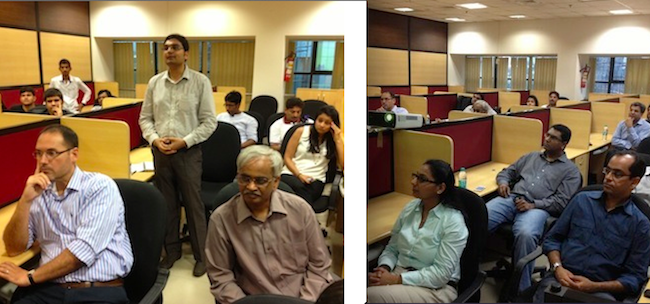 The participants are given a tour of the office, post which the Olacabs guys give us a presentation focusing on 'developing a great user interface and product for an internet business'. After the presentation, participants are given a chance to interact with the Olacabs people, and what follows is an electric Q&A session covering areas like how to build a successful online cab-booking business, how to achieve rapid scale without compromising on the quality, expansion into new cities, aggregating cabs and ensuring driver quality, the road to profitability, and much more.
You can also check out our Twitter handle @techcirclein for updated pictures.
Post the interaction, as we move to our next location, which is the office of online classifieds site Quikr, we are handed a quick cup of coffee and some tasty sandwiches- what more can you ask for…. stay tuned as we continue our live blogging from all of the Startup Walkabout locations throughout the day.
---