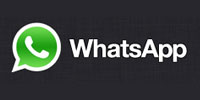 WhatsApp, the popular, cross-platform mobile messaging app which is currently available on iOS on a subscription basis, has extended its free service to iPhone users for the first 12 months.
The app, which allows you to exchange messages without paying for SMS, is already free to download on the Android platform. But from now on, both Android and iPhone users will be able to use it for free for the first 12 months after the initial download and then need to subscribe at $1 per year to use it. However, those who have already purchased the app on the iOS platform, will get a lifetime subscription without any extra charge. The app is also available for BlackBerry, Windows Phone and Nokia devices.
Launched about four years ago, WhatsApp is one of the leading messaging services with more than 250 million downloads till date. It saw more than 100 million downloads so far on Google Play Store alone. It enables you to send a million messages a day for free and enables group chatting as well. You can also send video, images and voice notes to your friends and contacts.
WhatsApp works with your phone number, just like the SMS service, and integrates with your existing phone address book. Also, you don't need to log in or log out to use the app. Your address book is used to connect you automatically to your contacts who have WhatsApp Messenger. Even if you miss push notifications or turn off your phone, it will save your messages offline until you retrieve them during the next use. You can also share location, exchange contacts, customise wallpaper & notification sounds, put message time stamps, e-mail chat history, broadcast messages and MMS to many contacts at once. WhatsApp has been ad-free so far, but it is competing with Viber, Nimbuzz and WeChat, Microsoft's Skype and Facebook Messenger.
(Edited by Sanghamitra Mandal)
---