Gurgaon-based startup Bright Lifecare Pvt Ltd, which runs the online health store Healthkart.com and the drug search marketplace called Healthkartplus.com, is claiming to do close to $2 million (Rs 12 crore) in gross merchandising volume (GMV) on a monthly basis or $24 million (Rs 144 crore) annually.
According to Prashant Tandon, co-founder and MD of Healthkart, the site is close to getting 2 million unique users on a monthly basis. It is also getting 1,500-2,000 daily orders, a third of which are coming from small towns and tier IV cities. The average ticket size of an order is Rs 1,500-2,000.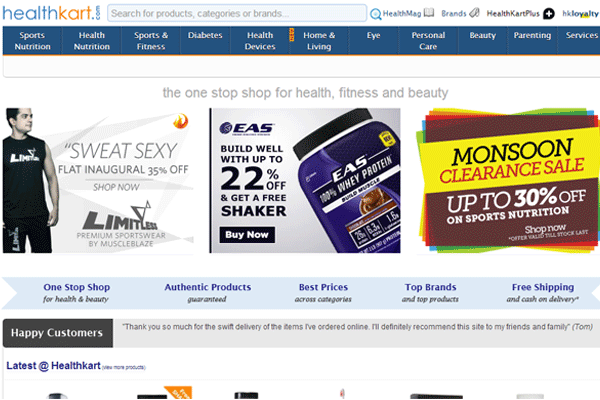 Going the hybrid way
The company also started setting up its offline stores earlier this year. With two offline stores already up and running, Healthkart is now looking to increase the number to 8-10 stores by the end of 2013.
"Our offline initiative is focused on fitness, which is our core category. We have already set up a couple of fitness stores called Healthkart Fit that offer supplements, nutrition and fitness products," said Tandon. The first store was opened in Delhi in February this year, followed by a store in Chandigarh which was started in July. The third store will also come up in Delhi, post which the company will expand into southern India.
Founded in 2011 by Tandon and Sameer Maheshwari, Healthkart sells products in a broad range of categories such as fitness & nutrition supplements, sports nutrition, health devices, personal care, eye care and parenting, as well as the recently added home appliances section.
According to Tandon, the reason for opening brick-and-mortar stores is that the offline market for fitness is significantly large and underdeveloped. "Quality retailers are very difficult to find in this category and we want to fill that gap," he added.
Tandon further clarified that the company is not looking at opening a retail chain. Instead, it will focus on a multi-channel approach. "We are experimenting with an omni-channel kind of model where the offline stores will complement our online venture," he said. For instance, these offline stores will be equipped with touch devices that will enable customers to browse the products available at Healthkart e-stores. Note that the offline stores will not be franchise-run and will be fully managed by the company.
The startup has recently closed an undisclosed Series B round led by Intel Capital, with participation from existing investors including Sequoia Capital. Earlier, it raised $1 million in seed funding from Kae Capital and Sequoia Capital, followed by a Series A round worth Rs 27 crore from Sequoia and Omidyar Network in January 2012.
(Edited by Sanghamitra Mandal)
---