Sify reports 33% growth in Q1 revenues to Rs 262.8Cr; Sify.com grows 44%
NASDAQ-listed Indian internet and IT services firm Sify Technologies Ltd has reported 33 per cent increase in revenues in the quarter ended June, 30, 2013, primarily driven by 75 per cent rise in its international data services business.
Revenues for the quarter ended June 30, 2013, stood at Rs 262.8 crore. On a sequential quarterly basis, revenues increased 13 per cent. Revenues from domestic data services business rose 29 per cent and it reported 34 per cent growth in wholesale voice services business. Sify said its focus on emerging enterprises is beginning to show good results in orders and revenues.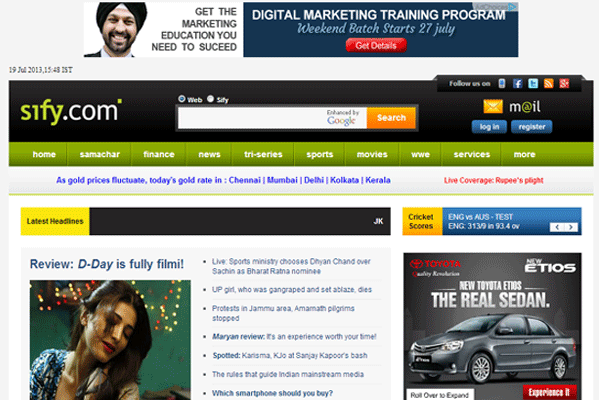 The revenue growth also pulled the firm out of the red. Net profit for Q1 was Rs 16.3 crore, compared to a net loss of Rs 7.6 crore in the year-ago period and loss of Rs 1.6 crore in the quarter ended March 31, 2013. EBITDA for Q1 saw more than 150 per cent increase over the year-ago period and also more than doubled sequentially, touching Rs 46.5 crore.
"This quarter has been our strongest quarter to date since we embarked on the new strategic direction we have set for ourselves," said Raju Vegesna, chairman and MD of Sify. "On the infrastructure front, we have consistently built capacity ahead of customer demand. Our investments in network and data centres are gaining increasing interest and improved utilisation."
According to him, the company sees traction around its cloud business and its investments in submarine cables have enabled the firm to compete for new business opportunities. "With the market in consolidation mode, we are also reaping the benefits of clients choosing Sify for our consistent and predictable performance," added Vegesna.
Sify claims that the highlight of the quarter is the winning of a multi-service, multi-technology integration project across more than 3,500 locations from one of India's largest non-banking financial companies.
"This quarter's result is a clear reflection of Sify 3.0-led strategy and execution plan, which were laid down three quarters ago. There is a significant growth in multi-tower engagement with existing and new customers, average deal size and revenues from existing customer base. Revenue, net profit and order booking have been the highest for a quarter till date," said Sify CEO Kamal Nath.
Business highlights
Domestic Data Services grew 29 per cent over same quarter last year.
Wholesale Voice Services grew 34 per cent over the year-ago period.
International Data Services grew 75 per cent over Q1 FY13.
Cloud and Managed Services have grown 62 per cent over the same quarter last year. The 9 new clients added this quarter include an international health conglomerate, a pharma major and the integrated civic transportation authority of India's most populous state Uttar Pradesh, among others.
Domestic Applications Business, excluding portals, grew 60 per cent from the same quarter last year.
Sify.com registered a YoY growth of 42 per cent vis-Ã -vis the same time last year (the firm did not disclose if this is in terms of revenues or viewers).
Sify Finance has grown over five times since last year.
Technology Integration Business more than tripled over the same quarter last year.
(Edited by Sanghamitra Mandal)
Comment(s)