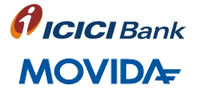 ICICI Bank has partnered with Movida India Pvt Ltd, a joint venture between New York Stock Exchange-listed Visa and London Stock Exchange-listed Monitise, to provide a mobile payment service for the bank's customers.
The service will allow ICICI Bank customers to pay bills, top up prepaid airtime and buy tickets using their mobile phones, including basic models. According to a company statement, the service—which will be launched soon—can be used by any mobile subscriber across all mobile networks using a Visa or a non-Visa branded credit or debit card.
After linking their ICICI Bank Visa or non-Visa payment cards to their mobile phone numbers, cardholders can access the service via USSD (a protocol used by GSM cellular telephones to communicate with the service provider's computers) or Interactive Voice Response (IVR), in multiple languages.
USSD can be used for prepaid call-back service, mobile-money services, location-based content services and  menu-based information services. USSD messages are up to 182 alphanumeric characters in length. Unlike SMS messages, USSD messages create a real-time connection that remains open and allow for a two-way exchange of a sequence of data. IVR allows people to interact with computers through voice.
The system encompasses various security measures, including a unique PIN number set up on the phone to access the account information. Only the user's bank-registered phone can be connected to the service.
"A growing population of more than 1.2 billion, coupled with widespread access to mobile phones, makes a strong case for a vast mobile payments opportunity," said Naushad Contractor, president of Movida India.
He said mobile payment services that can be accessed through any handset, without the need for a technology upgrade or a new purchase will succeed in India.
Movida is a 50:50 JV between Visa and Monitise. It works primarily with financial institutions and mobile service operators to provide mobile payment services to customers across India.
"A lot of consumers use their mobile phones for making financial transactions. This service by Movida will ensure that customers can get immediate access to a secure and simple solution that can be used even without an active internet connection," said Rajiv Sabharwal, executive director, ICICI Bank.
Last year, HDFC Bank partnered with Movida to offer similar services to its customers.
Mobile payment is emerging as a popular payment method. In fact, a recent study released by First Data Corp-ICICI Merchant Services showed that around 65 per cent of smartphone users have used their phones to make retail purchases and that  63 per cent of respondents are aware of the mobile wallet concept.
(Edited by Joby Puthuparampil Johnson)
---