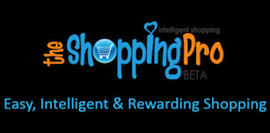 Intelligent Shoppro Pvt Ltd, the company that owns and operates TheShoppingPro.com, an online shopping tool, has raised Rs 22 lakh ($36,865) in angel funding from Gaurav Bhatnagar and Ankush Nijhawan, co-founders of business-to-business (B2B) travel portal Travel Boutique Online and Manish Dhingra, co-founder, Mediology Software, a digital publishing software company. The funds will primarily be used for product development.
"We will use the funds to create tools that simplify online shopping for consumers. The angel round also brings with it the investors' experience from their successful startups, making this a valuable association for us," said Ashish Gupta, co-founder and CEO, TheShoppingPro.
"Our goal is not simply to route some of the shopping transactions through us to make revenues, but to create a platform that makes the shopping experience easy and rewarding in order to helps users adopt online shopping in a big way," he added.
The Gurgaon-based startup was founded in March this year by IIT Delhi alumnus Gupta and Lavesh Bhandari (CTO). Prior to TheShoppingPro, Gupta worked at companies such as Tekriti Software and ICI India Ltd. He also co-founded StudyPlaces.com (now acquired by EduComp), a portal that provided information on degree and certificate programmes, online schools, distance learning, international education, top colleges and universities, etc. to students. Bhandari earlier worked at Royal Bank of Scotland and Wipro CCLG.
As of now, the startup is working on a series of web and mobile tools to make online shopping more convenient for consumers. It currently offers a free of cost browser plugin called Shop Mate (available for Chrome, Firefox, Internet Explorer and Safari), which once installed, provides users with best prices, latest coupons, as well as cashback offers as they browse through most of the e-commerce portals in the country. For revenues, the company receives a cut for every transaction done through its platform.
With the coupon automation feature, the plugin adds a 'Find Coupon' button next to the coupon entry box. When the user clicks on the button, TheShoppingPro automatically finds and applies valid coupons with the maximum saving to the user's cart. For cashback, the company shares a percent of the cut it receives from its partners (the e-commerce companies) with the users.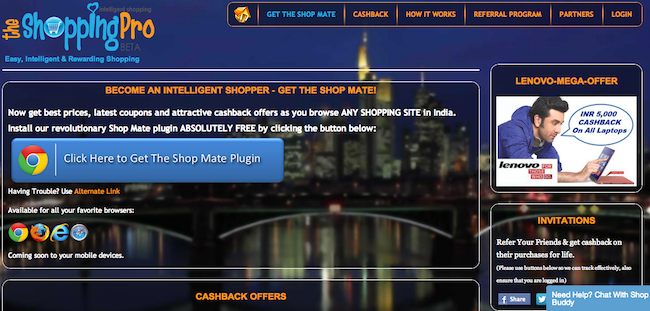 "In a nutshell, our partners give us commissions to help them get transactions. It is only fair that we share that with you. Cashback is an additional reward offered by TheShoppingPro and hence it does not affect any discounts, deals, coupons or reward points offered by the retailer," said Bhandari. "This is effectively the equivalent of taking a loyalty card to your offline store," he added.
How does it work? Once users download the plugin and registers for cashback programme, they will get cashback offers on the right side of their browser window as they browse their favourite e-commerce sites. Users only need to click on an offer they like and the company tracks their transactions and credit the user's account with the cashback, depending on their purchases.
The company claims to have had over 1,500 installations and is already generating revenues with over 200 transactions a month done through its platform. It has close to 100 partners, including the likes of Flipkart, Jabong, Myntra, MakeMyTrip, etc. and the plugin works across 250 online retailers in the country. It also offers a 'Partners Club' programme for bloggers and content site owners looking to monetise on their blogs/sites.
According to Gupta, the repeat usage pattern for the web tool is very promising and the company is now targeting mobile where the purchase to browse ratio is abysmally low. The company has already built a prototype for mobile and will be launching it in the coming months.
"Our aim is to simplify the selection, discounting and checkout mechanism to enable users to buy stuff within a few clicks, without having to visit external sites such as price comparison engines and coupon platforms," said Gupta.
---