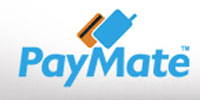 PayMate India Pvt Ltd, a Mumbai-based mobile payments company, claims it has surpassed $500 million in annual processing run rate, which means the firm has processed $500 million via its payment gateway. According to the company, it has been experiencing double-digit month-on-month growth in its processing business.
"We have now set our sights on doubling this number in the coming months," said Ajay Adiseshann, founder and managing director of PayMate. Going forward, the company is also planning to launch new services targeted at e-commerce and home delivery, but it has not divulged more details.
PayMate, a key provider of mobile and e-payment solutions, enables consumers to make payments and money transfers anytime/anywhere, and allows merchants to accept electronic payments. It offers its services in partnership with banks (including SBI, ICICI Bank, IDBI Bank and RBS, among others), telecom operators, merchants and other third-party financial services providers.
The company currently has operations in South Asia (India, Nepal and Sri Lanka) and the US. It has also raised funding from investors like Kleiner Perkins Caufield Byers, Sherpalo and Mayfield.
In October last year, the company's credit delivery solution for farmers called Mobile Kisan Credit Card (mKCC), developed by PayMate in collaboration with NABARD, Pallavan Grama Bank and Indian Bank, roped in 7,000 farmers. The mKCC pilot project was launched by PayMate and the participating banks in Villupuram district in Tamil Nadu. Prior to that, the company had launched a PayPOS solution, which enables small businesses to accept and process electronic transactions (credit and debit cards) directly on their mobile phones at the point of sale (PoS) itself.
Other players in the mobile payments space include Ezetap, Mosambee, iKaaz and Mswipe, among others. Last week, Ezetap launched a mobile point-of-sale (mPoS) device that costs under $50, is compliant with the new RBI guidelines and integrates all three solutions – magnetic stripe, chip and pin swipe in the same device.
(Edited by Sanghamitra Mandal)
---