Mumbai-based mobility solutions startup Gray Routes raises $100K in angel funding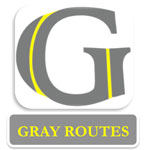 Mumbai-based mobility solutions provider Gray Routes Innovative Distribution LLC has raised $100,000 (Rs 59.5 lakh) in angel funding from a group of unnamed angel investors in Bangalore and Silicon Valley. The capital raised will be utilised for fresh hiring and patenting some of the solutions developed by the company. The funding was first reported by Startupcentral.in.
Founded in April 2013 by IIM Ahmedabad alumni Soubhagya Sahoo and Sapna Patel, the startup was among the top 75 businesses (out of 14,000-plus startups) at the Economic Times Power of Ideas 2012 competition. Prior to starting Gray Routes, Sahoo was national project manager (sales) at Hindustan Unilever and Patel was vice-president (business development) at InOPEN Technologies. The startup currently operates from Delhi & Mumbai and has a team of 12, but it is looking to increase the number to 16.
Gray Routes develops enterprise mobile applications and solutions that enable customers to automate and monitor distribution operations on-field. The company caters to several sectors including FMCG, telecom, food services, e-commerce and logistics. The startup has leveraged GPS technology to develop these distribution solutions, which can reduce costs up to 30 per cent upon adoption, the company claims.

(Edited by Sanghamitra Mandal)
---