Google holds back Mapathon 2013 winners' list as Survey of India raises concerns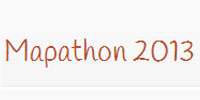 Google's Mapathon 2013 winners may have to wait for some more time before receiving their prizes. In an email communication to the participants of the online mapping contest, Google has said that it is 'not in a position to announce the results of the Mapathon yet', as the Survey of India (SoI), a government body mandated with the task of surveying and mapping the country, is yet to get back to the company with a review of the data that were added during the contest.
Mapathon was an online mapping contest for participants from India; it aimed at adding more locations such as hospitals, emergency services, utilities, restaurants, roads, schools, parks, restaurants etc. to Google Maps. The contest was held between February 12 and March 25, 2013. The results, which were originally slated to be announced on July 23, are yet to be released. The company had promised prizes like mobile phones and gift coupons for the winners.
'Since we can move forward only after receiving SoI's approval, we are unfortunately not in a position to announce the results of the Mapathon yet. We will announce the results when we hear back from SoI. We will continue to follow up with SoI and hope to announce the results at the earliest,' the letter said. Google said it had already provided the required data to SoI.
SoI had expressed concerns over the data and wanted to review them to make sure if it is safe to publish 'sensitive' information about the country. It filed a complaint with the Delhi police which launched an investigation into the contest. In its complaint, SoI had stated that the contest was against the National Map Policy.
This is not the first time Google is entangled in a dispute over national security with the government of India. In 2009, the map of the state of Arunachal Pradesh was shown incorrectly, forcing the company to issue a clarification later.
(Edited by Joby Puthuparampil Johnson)
Comment(s)