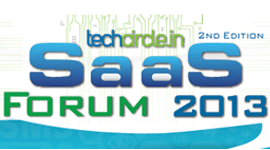 Techcircle SaaS Forum, now in its second edition, will be held on August 7 at Chancery Pavilion Hotel in Bengaluru. The conference will host a special session called Techcircle Runway where handpicked SaaS products and companies will be showcased.
Techcircle Runway presentations will cover product details, innovations, market opportunities, business models and how these products will disrupt existing markets to create value, followed by live feedback and Q&A with a panel of jury members. Each presenter will have five minutes on stage.
If you are a SaaS product/company and would like to showcase your innovation at Techcircle Runway, you can click here to fill the application form. For any query, contact Kanika at kanika@vccircle.com or call 0120-4171111. Click here for more details about the event.
While mapping the opportunities in this sector, Techcircle SaaS Forum 2013 will bring together more than 150 stakeholders, including CEOs representing top and  emerging SaaS firms, innovators as well as private equity and venture capital investors betting on this space. Click here for more details.
SPEAKERS
Alok Goyal - Partner, Helion Venture Partners

Abhay Deshpande - Founder & CEO, Martjack

Aditya Sanghi -  Co-founder & CEO, Hotelogix

Ambarish Gupta - Founder & CEO, Knowlarity Communications Pvt Ltd

Aneesh Reddy - Co-founder & CEO, Capillary Technologies

Avlesh Singh - Co-founder & CEO, WebEngage

Dhiraj Kacker - Co-founder & CEO, Canvera.com

Girish Rowjee - Co-founder & CEO, Greytip Software

Harishankaran K - Co-founder,  Interviewstreet

Kaushik Thakkar - Co-founder & CEO, Nevales

Murli Ravi - Head of South Asia Investment, Jafco Asia

Robin Moses - Founder & CEO, Reach Accountant

Sandeep Singhal - Co-founder, Nexus Venture Partners

Sanjay Nath - Co-founder & MD, Blume Ventures

Shivakumar Ganesan - Co-founder & CEO, Exotel

Venkat Raju - Ex-MD, ACI Worldwide Inc and an Active Angel Investor
.. and many more are joining.
The full-day forum will discuss and debate on the following—the future of SaaS product businesses from India; how competitive are Indian products vis-Ã -vis global products; how SaaS product companies move to the next level; how to convert from high touch to low touch; how to get the product positioning right; how companies go global successfully; how companies bring discipline in product operations; how to get the sales and customer acquisition strategy right; how to build an inside sales team; and how to make channel partnerships work successfully.
Join this initiative to identify businesses that will form an integral part of India's technology innovation and growth story.
For sponsorship opportunities, write to: vijay@vccircle.com
For registrations write to: kanika@vccircle.com or call 0120-4171111
For suggesting agenda/nominating speakers, write to ben@vccircle.com
---