App Tracker: Four utility apps to make your life easier

Our new-age mobile handsets are no longer 'just' phones, they are our cameras, our diary, our bank, our entertainment fodder, and much more (after all they are called smartphones for a reason!). For each of these additional roles, the smartphones make use of numerous applications out there. So we decided why not review a few of such apps that claim to make life easier for users and make Android phone that much more productive.
While last time we reviewed a number of location-based apps developed by homegrown companies, this time we decided to go global and selected four such apps.
Dropbox 

Most of you might already know about this one. It's a service that lets you save data of your smartphone on the cloud and access it from anywhere. Users can sync photos, videos, and documents, post which the app automatically saves it to the users' computer, phone and the Dropbox website. The basic service that offers 2GB of data storage is free, but users can also upgrade their account for more. Monthly or yearly subscriptions are available for the same. Users have to select which files they want to upload (drag and drop feature is not available on phone), or if you want to save all the photos present in your phone, a separate tab for 'camera upload' will do the needful. Users can mark 'stars' on your favourite files, create albums and create text files as well on the app. You can also organise the files in different folders.
The UI is pretty intuitive, for instance, as soon as the registration finishes, a pop-up window asks if you wish to share information via Wi-Fi only or through the phone's data connection (we would recommend to stick to Wi-Fi). Though the uploading of files can take time (one song of 6MB took around two minutes to upload), it keeps happening in the background and you can continue to use your smartphone.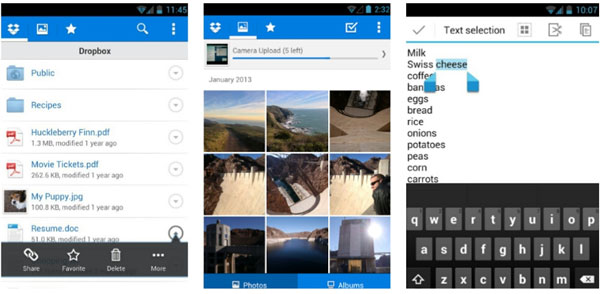 Takeaway: A good app which does what it claims efficiently, though just like pictures it should enable upload of text documents/audio/video collectively too, when users want to take a total backup.

User rating: 4.6/5 TC rating: 4/5
Sticky Notes
Taking notes in a meeting, jotting down an important phone number, or even making a to-do list—the app offers it all. After browsing through a number of note taking apps, we zeroed in on this one because of the sheer number of options and features it provides. Sticky Notes lets users make different notes and save them in the form of the colourful stick-on notes. It offers various options for personalisation; for example, users can change the background, the colour of the note sticker, font style as well as the note size. It also allows users to share the note on social media. But the coolest feature is the reminder alarm which can be added to the note. Another interesting feature is the text-to-speech feature which reads aloud the note.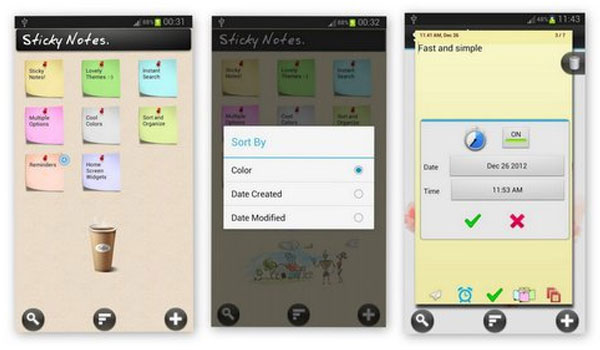 Takeaway: The UI is easy and uncluttered and the whole experience is good. One thing we feel could also be added is location-based syncing of notes. 

User rating: 4.5/5
TC rating: 4/5
Applock

Enables users to keep sensitive files, data and pictures in their smartphone, away from prying eyes. While all smartphones come with number-based or pattern-based lock, it can only be used to lock the entire device. The app lets users lock individual apps (like messaging apps, email apps, photo gallery, etc.) with a number or a pattern lock. Once launched, the app asks users to select an unlock password, and a security question and answer that will be used in case they forget the passcode. Post that, Applock lists all the apps available on the smartphone and users can select which ones they want to lock. 
The user interface of the app is pretty clean and easy to use. Users can simply scroll down and toggle the lock icon to enable or disable the lock on a particular app. While the basic app is free, there is a premium version as well, which offers a number of additional features like time lock, location lock, profile for users and more.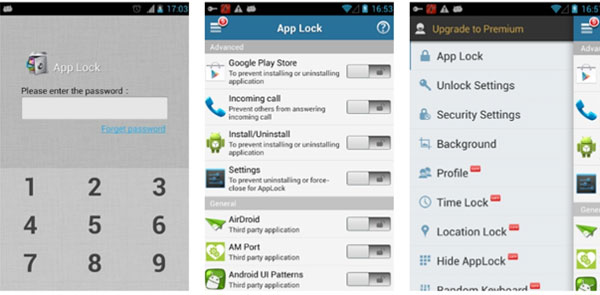 Takeaway: The free app does not offer a lot; so be ready to fish out Rs 50 per month or  Rs 164 per year for the premium one.
User rating: 4.6/5 TC rating: 3.7/5
Brightest LED Flashlight
Where is that torch when you need one—a question most of us have asked ourselves more than once. This is why a flashlight app is a must have for every smartphone (at least for the ones that come with a flash in the first place). This app is simple to use and as soon as you open the app, you see a torch's switch, which when turned upwards, switches on the LED flash of the smartphone's camera. On the top of the screen are some controls that can be used to make the light blink.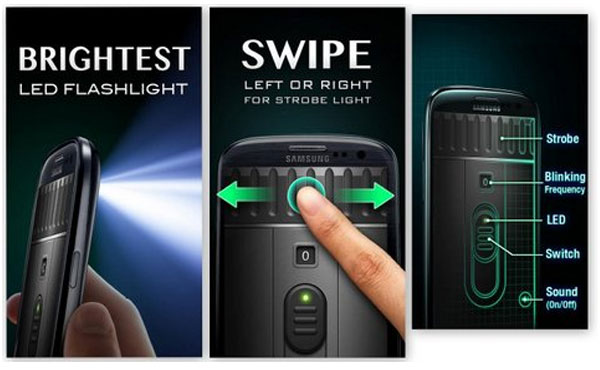 Takeaway: Does what it states; so do a number of other flashlight apps. Interested users can also check out Brightest Flashlight Free.
User rating: 4.8/5 TC rating: 4.5/5
Note that this is not a comparison of the apps, which is kind of obvious since all of them serve a different need of the user; hence there is no winner for this week's App Tracker. We could have missed out on some of the apps out there, but that is always the case since we only review a handful of apps each week.
So if you (startups/developers) want your apps featured on Techcircle.in in the future, you can send in your requests, along with a brief descriptor of your apps to editorial@vccircle.com. For readers, if you find an interesting app out there and want it reviewed by us, you can also send us a 'tip' at the above mentioned email id. That's all for this week's App Tracker. Till next time, keep tracking.
(Edited by Joby Puthuparampil Johnson)
---