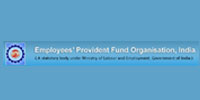 Come August, employees' provident fund (EPF) subscribers will be able to claim PF settlement online while changing jobs, thanks to a new facility introduced by the Employees' Provident Fund Organisation (EPFO).
A PF subscriber will have the option to submit his/her claim either through the current employer or the previous one. The service will be available on EPFO's member portal.
With the new facility in place, employers, too, can view transfer requests from their members, verify details from their records and approve information using digital signature. Employers can see all such claim requests with ease, verify and correct member details, approve and submit the requests online through the portal.
This move is expected to benefit 1.3 million applicants who apply for provident fund (PF) claims settlement every year. EPFO expects to clear around 1 million cases of the 1.3 million this financial year.
To attest and forward claims online, employers are required to register digital signature certificate (DSC) with EPFO. DSC issued by a licensed certifying authority (CA) needs to be registered for the purpose.
A digital signature is an electronic form of a signature that can be used to authenticate the identity of the sender of a message or the signer of a document, and also ensure that the original content of the message or document that has been sent is unchanged.
(Edited by Joby Puthuparampil Johnson)
---